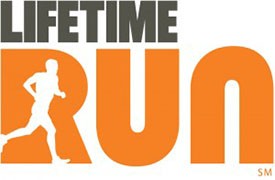 Runners of all ages and abilities are invited to participate
WHAT:

On June 4, Life Time – The Healthy Way of Life CompanySM (NYSE: LTM) is inviting runners of all levels and abilities to hit the pavement — or a treadmill — in celebration of National Running Day. Life Time is setting out to log 20,000 miles in a single day, the equivalent of running across the United States from coast to coast 6.5 times, as a fun way to encourage people of all ages, skill levels and abilities to participate in a healthy, active way of life.

Free, fun social runs will be held at Life Time destinations across the country by Life Time Run, the nation's premiere run club. Miles will be tracked and tabulated toward the 20,000 mile goal. For those unable to participate in the social runs, Life Time Run is encouraging anyone who runs on June 4 to log their miles on Life Time Run's Facebook page or via Twitter using the hashtags #lifetimerun and #nationalrunningday. Total miles logged will be announced on June 5, following a tabulation from Life Time Run coaches and social media submission.

Life Time Run, the fastest growing running organization in the country, has more than 18,000 runners actively participating in its monthly programs and offers social run programs, group training as well as customized training and coaching.

WHEN:
National Running Day – Wednesday, June 4, 2014
WHERE:
Life Time Run clubs at Life Time destinations nationwide

Visit lifetimerun.com/nationalrunningday to find a run club near you!

VISUALS/INTERVIEWS:

B-roll and interviews available of Life Time Run participants at local Life Time destinations on National Running Day
Interviews with Life Time Run Coaches on topics including:

o   Running tips for beginners

o   Running gear

o   Run safety

o   Run event training
For additional information on Life Time Run including National Running Day, visit http://www.lifetimerun.com.
About Life Time Fitness, Inc.
As The Healthy Way of Life Company, Life Time Fitness (NYSE:LTM) helps organizations, communities and individuals achieve their total health objectives, athletic aspirations and fitness goals by engaging in their areas of interest – or discovering new passions – both inside and outside of Life Time's distinctive and large sports, professional fitness, family recreation and spa destinations, most of which operate 24 hours a day, seven days a week. The Company's Healthy Way of Life approach enables customers to achieve this by providing the best programs, people and places of uncompromising quality and value. As of May 29, 2014, the Company operated 111 centers under the LIFE TIME FITNESS® and LIFE TIME ATHLETIC® brands in the United States and Canada. Additional information about Life Time centers, programs and services is available at lifetimefitness.com.
# # #