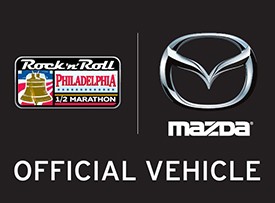 Mazda Official Vehicle Partner at Philadelphia, Savannah, Las Vegas, and Arizona events
San Diego, CA – September 13, 2013 – Competitor Group, Inc. (CGI), the leading active lifestyle sports media and event entertainment company, and Mazda today announced a partnership with the Rock 'n' Roll marathon series as the "Official Vehicle" sponsor of running events in Philadelphia, Savannah, Las Vegas, and Arizona. Sponsorship activities include free food and beverages, screen-printed t-shirts, and ride-and-drive opportunities for marathon participants and supporters at each event.
"Mazda is proud to support the Rock 'n' Roll Marathon Series and its participants," said Russell Wager, Vice President of Marketing for MNAO. "Marathon runners who push their bodies to the limit for a good cause are true Game Changers. They embody Mazda's brand values to excel beyond what is possible."
The sponsorship kicks off this weekend at the Rock 'n' Roll Philadelphia Half Marathon (Sept. 13-15), where Marathon Expo attendees can visit the Mazda display to have their photo taken at the SpeedCam photo booth, refuel at the Mazda Fueling Station with free food and beverages, and share stories of personal inspiration and motivation at the interactive #GAMECHANGER wall. On September 15, at the marathon, runners and supporters can stop by the Mazda Creation Station at the finish line to pre-select a customized event t-shirt.
"Partnering with Mazda was a natural fit given our brands share a passion for performance and dedicated to developing innovative ways to engage consumers through unforgettable event experiences," said David O'Connell, VP Sponsorship Sales of Competitor Group, operator of the Rock 'n' Roll Marathon Series. "We look forward to providing Mazda with a fully integrated event platform for the brand to engage with affluent athletes across the country."
Mazda's sponsorship continues at the Rock 'n' Roll Savannah Marathon & Half Marathon (Nov. 7-9), Rock 'n' Roll Las Vegas Marathon & Half Marathon (Nov. 15-17), and Rock 'n' Roll Arizona Marathon & Half Marathon (Jan. 17-19). In addition to the Mazda Expo display and Creation Station activations, these race events will include ride-and-drive opportunities in several Mazda vehicles and a Mazda Tailgate Party, where supporters can motivate runners with cowbells and cheer cards.
In addition to providing onsite activities, "Team Mazda" runners will participate in each Mazda sponsored Rock 'n' Roll Marathon. A full list of Rock 'n' Roll Marathon cities and dates is available online at www.runrocknroll.com.
Organized by Competitor Group, the Rock 'n' Roll Marathon Series is the 'World's Largest Running Series' with more than 500,000 runners taking part in events around the world every year. Started in 1998, the simple idea of making running fun has transformed the U.S. running landscape by infusing the course with live bands, cheer teams and entertaining water stations, creating a block-party atmosphere for participants and spectators alike. Today, the series of marathons and half-marathons has spread to more than 32 destination cities, drawing visitors from around the world.
Mazda North American Operations is headquartered in Irvine, Calif., and oversees the sales, marketing, parts and customer service support of Mazda vehicles in the United States and Mexico through nearly 700 dealers.  Operations in Mexico are managed by Mazda Motor de Mexico in Mexico City.  For more information on Mazda vehicles, including photography and B-roll, please visit the online Mazda media center at www.mazdausamedia.com.