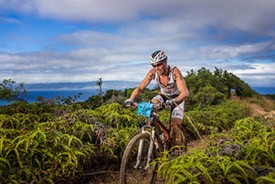 The 18th edition of the XTERRA World Championship on October 27 at Kapalua, Maui will feature one of the greatest collections of elite athletes in event history.
October 11, 2013 (Honolulu, HI) – The 18th edition of the XTERRA World Championship on October 27 at Kapalua, Maui will feature one of the greatest collections of elite athletes in event history.
There are more than 70 pros representing 20 countries on the tentative pro start list including some of the biggest names from the XTERRA, ITU, 70.3, duathlon, winter triathlon and mountain bike racing scenes.  Of note, every pro on the start list qualified for Maui by racing in at least one XTERRA major this season.
With last year's winner Javier Gomez not on the start list, the "favorites" focus shines on XTERRA icons Conrad Stoltz and Josiah Middaugh.  Stoltz has won an unprecedented four XTERRA World titles and captured his third straight ITU Cross Tri World Championship this summer.  Middaugh, who finished 2nd place less than a minute behind Gomez at Worlds last year, won the XTERRA U.S. Pro Series crown this season.
"Josiah Middaugh has to be the favorite," said XTERRA managing director Dave Nicholas.  "In 2012 he beat everybody in the field by over 2 minutes, except one, but Javier Gomez is not at Maui to defend his crown and Josiah has shown both the speed and the mental toughness to bring the World Title back to the USA.  It will not be easy as Conrad Stoltz is looking unbelievably strong on the bike and wants that 5th title badly."
Leonardo Chacon from Costa Rica upset both Stoltz and Middaugh to win the USA Championship race in Utah last month and was fourth in Maui last year.  2008 XTERRA World Champ Ruben Ruzafa and XTERRA European Tour champ Hector Guerra represent the hopes of Spain.
Ben Allen won more World Tour championships than anyone this year with seven.  Dan Hugo makes his return to the Kapalua course where he was just seconds shy of winning the 2011 crown.  Brent McMahon is a speedster who's finished in the top six four times, including a pair of 3rd-place showings.
There's a cast of experienced Euro Tour stars in the mix including Yeray Luxem, Asa Shaw, Nico Lebrun, Olivier Marceau, Felix Schumann, and Kris Coddens.
Among all the heavy hitters two XTERRA World Championship first-timers stand-out, Olympians Courtney Atkinson from Australia and Richard Murray from South Africa.  Both won their home country XTERRA Championship races and bring world-class speed to the sandy shores of Maui.
The field is just as deep for the women although the "Scottish Rocket" Lesley Paterson, with her two world titles and seven straight XTERRA victories, is clearly the woman to beat.
The reigning and two-time XTERRA European Tour champ Helena Erbenova got the best of Paterson at ITU Cross Tri Worlds this summer, but Paterson wasn't 100% for that race.  And last year in Maui Erbenova was shackled with an injury that kept her from her best.
"You can't look at the women's field without seeing Lesley Paterson as the favorite," said Nicholas.  "Super Czech pro Helena Erbenova handed the little Scot her only loss this year at the ITU race in Holland but Les was not at her physical finest there.  Erbenova is the real deal though, and has dominated Europe for two seasons now."
Barbara Riveros was just 2nd to Paterson at the USA Champs in Utah, and was 2nd in Maui last year as well.  Heather Jackson is the top American female returner, she placed 4th last year and was the runner-up at 70.3 Worlds last month.  Emma Garrard was the top American at the USA Championship last month, finishing fourth behind only Paterson, Riveros, and Chantell Widney.
This will be the first Maui attempt for Widney, who was 3rd at the ITU Cross Tri Worlds this year. She's part of a Canadian contingent that will be in full force with 3x XTERRA World Champion Melanie McQuaid, two-time runner-up Danelle Kabush, Brandi Heisterman, Christine Jeffrey, and Katie Button.
Jacqui Slack and Renata Bucher won four XTERRA World Tour races a piece this year, and are joined by fellow Euro Tour star Kathrin Muller.
The U.S. can pull for its last two national champions – Shonny Vanlandingham and Suzie Snyder; while other notables include Nicky Samuels, Liz Orchard, and Sarah Backler from New Zealand and Carla Van Huyssteen from South Africa.
2013 also marks the return of three-time World Champ Julie Dibens, who dominated from 2007-2009.  Indeed a regal field with Dibens, Paterson, Vanlandingham, and McQuaid accounting for every XTERRA World title since 2005.
Here's a look at the tentative start list for XTERRA Worlds, and visit xterramaui.com for more details, stories and video as get closer to off-road triathlon's greatest day…
THE ELITE MEN
MEN'S PRO START LIST (Alpha by Country)
AUSTRALIA: Ben Allen, Courtney Atkinson
BELGIUM: Kris Coddens, Yeray Luxem, Jim Thijs
BRAZIL: Felipe Moletta, Bruno Silva
CANADA: Brent McMahon
COSTA RICA: Leonardo Chacon
CZECH: Jan Francke, Jan Kubicek
FRANCE: Francois Carloni, Brice Daubord, Marvin Gruget, Nico Lebrun
GERMANY: Dennis Kruse, Felix Schumann
GREAT BRITAIN: Asa Shaw, Richard Stannard
ITALY: Fabio Guidelli
NEW ZEALAND: Braden Currie
SOUTH AFRICA: Dan Hugo, Richard Murray, Conrad Stoltz
SPAIN: Hector Guerra, Ruben Ruzafa
SWITZERLAND: Olivier Marceau
USA: Grant Bovee, Chris Ganter, Ryan Ignatz, Andy Lee, Kyle Leto, Jason Michalak, Josiah Middaugh, Branden Rakita, Will Ross, Tim Snow, Adam Wirth
Past XTERRA World Champs in Bold
THE ELITE WOMEN
WOMEN'S PRO START LIST (Alpha by Country)
AUSTRALIA: Tamara Donelson
AUSTRIA: Carina Wasle
BRAZIL: Laura Mira Dias
CANADA: Katie Button, Brandi Heisterman, Christine Jeffrey, Danelle Kabush, Melanie McQuaid, Chantell Widney
CHILE: Barbara Riveros
CZECH: Helena Erbenova
DENMARK: Nienke Oostra
GERMANY: Kathrin Muller
GREAT BRITAIN: Julie Dibens, Daz Parker, Lesley Paterson, Jacqui Slack
ITALY: Genziana Cenni
JAPAN: Mieko Carey
MEXICO: Dunia Gomez
NEW ZEALAND: Sarah Backler, Elizabeth Orchard, Nicky Samuels
SOUTH AFRICA: Carla Van Huyssteen
SWITZERLAND: Renata Bucher
USA: Caroline Colonna, Emma Garrard, Heather Jackson, Suzie Snyder, Shonny Vanlandingham
Past XTERRA World Champs in Bold
The XTERRA World Championship is presented by Paul Mitchell, AVIA, Maui Visitors Bureau, The Ritz-Carlton, Kapalua, and Outrigger Hotels & Resorts. Sponsored by Muscle Milk, Kapalua Resort, Gatorade, PowerBar, T S Restaurants, Hawaii Tourism Authority, LifeProof, Island Air, Footbalance, Zorrel, Rudy Project, Kona Brewing Company, XTERRA Wetsuits, Live More Card, Rockwell Watches, and XTERRA Fitness.
About TEAM Unlimited/XTERRA
TEAM Unlimited is a Hawaii-based television events and marketing company, founded in 1988.  It owns and produces XTERRA and in 2013 will offer more than 300 XTERRA off-road triathlon and trail running races in 18 countries worldwide.  In the U.S. alone nearly 200,000 participants took part in the XTERRA lifestyle last year.  In addition, TEAM TV has produced more than 300 adventure television shows resulting in three Emmy's and 42 Telly Awards for production excellence since 1990.  View samples at www.xterra.tv, and learn more at xterraplanet.com and xterratrailrun.com.