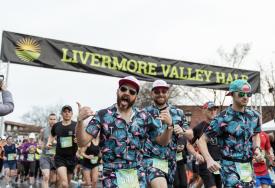 OAKLAND (March 6, 2019) – Mascot Sports, a leader in sports and experiential marketing, relaunched the Livermore Valley Half Marathon on March 3, bringing back a local favorite originally founded by the company in 2014.
The sixth edition of the Livermore Valley Half took runners 13.1 miles through the Historic Downtown District and the scenic Livermore Valley filled with vineyards, parks, and golf courses. The start and finish took place right in the heart of downtown where runners enjoyed closed streets that filled with local wineries, breweries, local businesses, city officials and a band ready to enjoy all Livermore has to offer.
"We were thrilled to be back in Livermore," said Tim Cole, VP of Events at Mascot Sports. "Livermore Downtown rolled out the red carpet and allowed us to do things the Mascot way — deliver a top quality athletic event and an incredible community celebration."
"This run is like a postcard," said Rachael Snedecor, Executive Director of Livermore Downtown Inc. "The hills are green and the vineyards are starting to bud. We really encouraged people to make a full weekend out of this event. We want people to love it here and come back again and again."
Altamont Beer Works, the Official Beer Partner of the this year's event, canned a limited-edition version of their best selling IPA to create the custom "Runner's Hi.P.A.," which was on tap for runners and available for purchase in a four-pack.
"It brings a lot of out-of-towners into this beautiful area," said John Ernst, Director of Marketing and Brand at Altamont Beer Works. "We have the wineries, the breweries and the gorgeous rolling hills. It's absolutely beautiful and a great place to run."
Livermore Half participants brought home a unique medal, gender-specific technical tee, and their own glass to that allowed them to enjoy 13.1 tastes from local wineries and breweries as part of the Finish Festival.
Registration is open for the 2020 edition of the Livermore Valley Half Marathon and is only $75 for a limited time. Participants who participated in the 2019 Livermore Valley Half can register for the Oakland x Livermore 26.2 Challenge and unlock a limited edition medal.
For more information on the Livermore Half Marathon, please visit livermorevalleyhalf.com and follow along with the event on Facebook, Twitter and Instagram. Official photos and video from the event can be found here
About Mascot Sports
Mascot Sports is a leader in sports and experiential marketing igniting the rally for innovation through brands, athletes and events. Based in Oakland, Mascot Sports was founded in 2017 by veteran endurance sports executive and competitive triathlete Ryan Dawkins, also the recipient of Acquisition International's 2015 Business Excellence Award for "Best CEO in the Events Sector." Mascot represents brands, event properties and athletes in the areas of sales, sponsorship, marketing, digital media and strategic consulting. Current programs include: Warner Bros' Wonder Woman Run Series, Livermore Valley Half Marathon, Southern California Half Marathon and the Fast Freddie Challenge in partnership with 4-Time U.S. National Road Race Champion, "Fast" Freddie Rodriguez. For more information, please visit: mascotsports.com.
###