Mascot Sports Names Endurance Sports Industry Pro Tim Cole as New VP of Events
May 9, 2018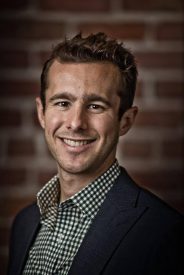 OAKLAND, CA (May 9, 2018) – Mascot Sports, a leader in sports and experiential marketing announces the hiring of Tim Cole as Vice President of Events. Based in Oakland, Cole will oversee event operations for Mascot's portfolio of owned events including the regional favorite Oaktown Half as well as the company's larger event partnerships with companies including Warner Bros and Oakland Athletics.
Cole joins the company after a decade of event experience with companies like Clif Bar, Gatorade and most recently, Corrigan Sports Enterprises, where he served as Race Director for the Oakland Marathon. Under his leadership, the 2018 event attracted 10,000 participants and was the most successful in the event's nine-year history.
Prior to that, Cole also spent three years under Mascot CEO Ryan Dawkins working at Project Sport, Dawkins' previous venture which was acquired by OmniForce in 2014.
"Tim is a proven executive who has led operations, partnerships and community engagement for some of the best endurance events in the country," said Dawkins. "His leadership and expertise in the space brings even more innovation to the Mascot team as we continue to grow and acquire new events."
As Dawkins' Sponsorship Sales lead at Project Sport, Cole secured a solid roster of local and national partners to the company's portfolio which included the Town's Half Marathon, an event re-launched this year as the Oaktown Half under Mascot.
"I'm thrilled to join the Mascot team and have the opportunity to help grow events like the Oaktown Half I helped launch five years ago," said Cole. "I'm pleased to be part of a company so innovative and unique in the industry."
Cole graduated from the University of Oregon with a degree in Business Administration with a concentration in sports marketing. Also a competitive athlete, Cole is an Ironman 70.3 finisher, perennial Boston Marathon qualifier, and avid member of East Bay Free Fitness and East Bay Beer Runners.
More information here.
About Mascot Sports
Mascot Sports is a leader in sports and experiential marketing igniting the rally for innovation through brands, athletes and events. Based in Oakland, Mascot Sports was founded in 2017 by veteran endurance sports executive and competitive triathlete Ryan Dawkins, also the recipient of Acquisition International's 2015 Business Excellence Award for "Best CEO in the Events Sector." Mascot represents brands, event properties and athletes in the areas of sales, sponsorship, marketing, digital media and strategic consulting. Current clients include: Spartan Race, 24 Hour Fitness, Clorox, Denver Broncos, IndyCar driver TJ Fischer and former professional cyclist and 4-Time U.S. National Road Race Champion, "Fast" Freddie Rodriguez. For more information, please visit: mascotsports.com.
# # #