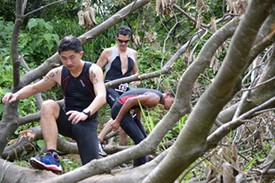 Five-stop series in 2015 will award points and prize money to top triathletes in the region
Honolulu, HI – TEAM Unlimited, owners and producers of the XTERRA World Tour, has united its championship triathlons in Asia to create the XTERRA Asian Tour and will crown series champions at the season finale in Langkawi, Malaysia this May.
The five majors in the 2015 XTERRA Asian Tour are XTERRA Philippines on February 8 in Albay, XTERRA Saipan on March 28 in the Northern Marianas, XTERRA Guam on April 11 in Piti, the XTERRA Asia-Pacific Championship on April 18 in New South Wales, Australia, and XTERRA Malaysia – which will double as the XTERRA Asian Tour Championship race – on May 2 in Langkawi.  (Note: The XTERRA Japan Championship in Hokkaido on August 29 will serve as the first race of the 2016 XTERRA Asian Tour.)
The top 15 amateur, Asian-elite, and professional racers at each event will earn points, with double points being offered at the finale in Malaysia.  Racers will count their best three scores to determine champions in each division.
"Creating a point series for the XTERRA Asian Tour just like we've done in the U.S. and Europe provides us the opportunity to reward the amateur athletes in the region, and the international pros who travel to several events with more prize money and recognition," said XTERRA World Tour managing director Dave Nicholas.
The XTERRA Asian Tour will award a prize bonus of $10,000 USD to the top five pro men and women in the final standings ($2,000 for 1st, $1,500-2nd, $800-3rd, $400-4th, $300-5th).
In all, more than $100,000 in prize money for pros will be awarded on the XTERRA Asian Tour.  There are $15,000 USD payouts at the Philippines, Saipan, Guam, and Malaysia races, and $50,000 AUD awarded at the XTERRA Asia-Pacific Championship in Australia, plus the 10K bonus to the series' top performers.
There is also a new athlete classification being introduced for the Tour – the "Asian elite" division – enabling fast age group athletes from the region to race against each other.
For further details on the 2015 XTERRA Asian Tour visit www.xterraasia.com, and for more on the XTERRA Asian Tour Championship in Malaysia visit www.xterramy.com, supported by Malaysia Major Event
About TEAM Unlimited/XTERRA
TEAM Unlimited is a Hawaii-based television events and marketing company, founded in 1988.  It owns and produces XTERRA and in 2015 will offer more than 300 XTERRA off-road triathlon and trail running races in 25+ countries worldwide. In addition, TEAM TV has produced more than 300 adventure television shows resulting in three Emmy's and 42 Telly Awards for production excellence since 1990. View samples at www.xterra.tv, and learn more at xterraplanet.com and xterratrailrun.com.