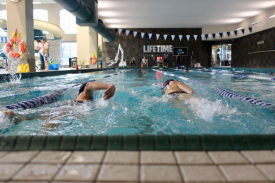 Registration nearing 50 percent capacity, register now to guarantee entry for January events
Minneapolis, Dec. 13, 2018—An overwhelming majority of non-triathletes point to fear and intimidation as the main reason for trying the sport of triathlon. But Life Time, the premier healthy lifestyle brand, is looking to mitigate those fears in 2019 through its Life Time Tri series with an expansion of its Indoor Triathlon program next month, which is on track to break records.
On the heels of a successful 2018 season hosting 60 Indoor Triathlons with more than 5,000 participants, more than half of whom were first-time triathletes, Life Time will host 100 events on January 20 and 27. The goal is to double its participation and make the event the triathlon industry's largest single driver of new participants.
Participants competing in the Indoor Triathlon race against the clock and receive points for going further in a specific period of time rather than going faster over a fixed distance. The total event lasts for 75 minutes and consists of a 10 minute pool swim, 30 minutes on an indoor bike and a 20 minute run on a treadmill.
"Non-traditional triathletes are flocking to our Indoor Tri events, embracing the opportunity to try this sport in an environment that isn't as intimidating out of the gate, and alongside friendly competitors," says Scott 'Hootie' Hutmacher, Senior Brand Manager. "Fifty-one percent of registrants to date have never completed an outdoor triathlon, and 62 percent are female – exactly the inverse of outdoor triathlon participation. This, right here, is the future of our sport and great for people of all ages and abilities."
The Life Time Indoor Triathlon Series is among a myriad of programs offered by Life Time Tri to remove the intimidation factor from first-timer participation in triathlon. Athlete education and developmental programs, including free training plans, community-wide swim clinics, and beginner friendly race experiences, as well as offering a relay division for those who do not feel that they are quite ready to conquer all three disciplines (including Indoor Tri), have led to growth year over year.
Registration is now open for events in the U.S. and Canada and is quickly approaching sell-out. Interested athletes are encouraged to register quickly to guarantee entry. Participants can request to start alongside specific peers, based upon availability. Registration is only $30 through Sunday, December 16 ($35 thereafter), and open to Life Time destination members and non-members alike.
The Life Time Indoor Tri will take place on Jan. 20 or Jan. 27 at select Life Time locations. Each is limited to 100 participants, with many already sold-out. For a complete list of locations, dates and to register, visit https://www.lifetimetri.com/events/indoortri/.
About Life Time®—Healthy Way of Life
Life Time champions a healthy and happy life for its members across its 140 destinations in 39 major markets in the U.S. and Canada. Life Time, the premier healthy lifestyle brand, delivers an unmatched athletic resort experience and provides a comprehensive healthy living, healthy aging and healthy entertainment experience that goes well beyond fitness to encompass the entire spectrum of daily life for individuals, couples and families of all ages. For more information visit, www.lifetime.life.
# # #