Leonardo Aguiar and Victoria Martins Reimali win GFNY Brasil
August 10, 2018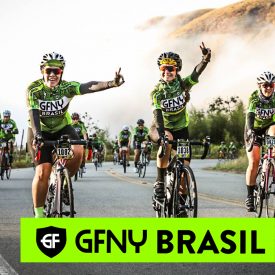 1400 riders took on the 160k course with 2890m of climbing
NEW YORK CITY, August 10, 2018 – GFNY Brasil attracted 1400 riders to tackle the beautiful but challenging course set in Conservatória, two hours north of Rio de Janeiro.
In a hotly contested men's race, Leonardo Aguiar came out as champion, covering the 160km distance in 4hrs 20minutes and 19seconds. He held off last year's winner, Antônio "Pipo" Garnero (BRA) and challenges from Anderson Zomer (BAR) who took second place in 4:21:02. Natan Mahler (BRA) rounded out the podium a further 28 seconds back.
"It was a tough race with demanding climbs and a high level of competition. I went in visualizing each pedal stroke, every kilometer and it all came together on the day," says Aguiar, who last year came 7th.
In the women's race Victoria Martins Reimali was racing in her debut GFNY. Leading all the way she took the win in 4hrs 49minutes and 06seconds. Second place was Maria Camila Gianella (BRA) in 4:51:19, and Daniela Genovesi (BRA) in 4:51:45.
"I am delighted to take my first GFNY title. It was a great race on a beautiful but very challenging course. I tried to stick to my strategy of staying ahead of the women's group and think about my race rather than worry about the other competitors and it worked perfectly," said Reimali.
Next up is Super Sunday on September 2nd with GFNY Europe Championship in Germany and GFNY Asia Championship in Indonesia. 
About GFNY
GFNY is the global cycling marathon brand with events held in NYC, Bali-Indonesia, Brazil, Chile, Colombia, Costa Rica, Germany, República Dominicana, Samosir-Indonesia, Italy, Jerusalem-Israel, Cozumel-Mexico, Monterrey-Mexico, Panama, Philippines, Poland, Portugal and Uruguay.
Riders get to BE A PRO FOR A DAY by competing against others, themselves and the clock in a personal endurance challenge.
At all GFNY events, riders have the chance to qualify for the elite racer corral at the GFNY World Championship in NYC by placing in the top 10% (20% at regional championships) of their age group.
Campagnolo GFNY World Championship NYC
The 9th annual Campagnolo GFNY World Championship New York will be held on May 19, 2019. The race features the world's most international peloton with riders from over 90 countries. Athletes take on a challenging 100-mile route from NYC to Bear Mountain to Fort Lee to compete against each other, the clock and themselves in a personal endurance challenge.
The official GFNY website is: www.gfny.com.