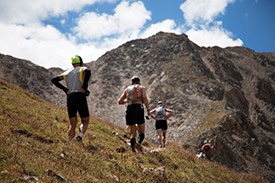 32nd Annual Event Draws More Than 700 Athletes from around the world to Conquer Colorado Rockies Terrain
Leadville, Colo. (Aug. 12, 2014) — The Leadville Race Series, produced by Life Time – The Healthy Way of Life Company (NYSE: LTM), will host its iconic Leadville 100 Run event, presented by New Balance, on Saturday and Sunday, August 16-17th. More than 700 competitors will race all day and into the night on the 100-mile course covering grueling Colorado Rockies terrain where elevations range from 9,200 to 12,600 feet and a total climb of 17,000 feet.
"The Leadville 100 Run is steeped in tradition and history and we are thrilled to begin our 32nd year of racing with so many amazing competitors here in Leadville," said Josh Colley, Leadville race director. "Most people imagine traveling 100 miles by car, train or plane, however, these participants embody the strength and determination to attempt run and race 100 miles—a feat that can inspire us all to live a healthier and active life."
In addition to a strong pro field vying for the overall win and course records, including past champions Duncan Callahan, Tim Parr and Ian Sharman there are several participants who've overcome amazing obstacles in order to compete or are working towards a place in the record books:
Trent Beachy: In 2008, Trent broke his neck and suffered a spinal cord injury which left most of the left side of his body paralyzed. Trent was lucky enough to regain leg function and this year, he will be the first high-functioning quadriplegic to finish a 100-mile race.
Jimmy Dean Freeman is working towards completing the "Original Grand Slam of Ultras" this summer: Six 100 milers in 12 weeks (Old Dominion, Western States, Vermont, Angeles Crest, Leadville, and Wasatch).
Jason Dorgan: Jason was recently diagnosed with Multiple Sclerosis (MS) and wants to prove that the disease does not have to limit what one does.
Joel Runyon: Joel is running seven ultra marathons on seven continents in order to build seven schools with Pencils of Promise in 2014.
Dan Kaupas: Dan was in a car accident at the age of 12, resulting in a broken skull, pelvis and right femur. After seven days in a coma, he had to re-learn to walk, write, read, colors, shapes, etc. At the time, Dan was told his likelihood of running was non-existent so he set out to prove them wrong.
Brian Remington Thornton: Brian was nearly killed in a motorcycle wreck in 2002 where he hit a wall at 120 mph.  After 21 months of rehab he learned to walk again. In 2006, he began running and to date has completed 40 half marathons eight full marathons and five ultra marathons.
The entire pool of competitors will start the Leadville 100 Run at 4:30 a.m. on Saturday, August 16th.   For more information and complete results visit www.leadvilleraceseries.com. For photos and more visit the Leadville Race Series Facebook page. To learn more about Life Time Athletic Events visit EventsByLifetime.com.
About the Leadville Race Series The Leadville Race Series consists of seven running events and four mountain biking events, in addition to six events in the Leadville Qualifying Series. The Race Series stretches across three months, and hosts thousands of racers on foot and on mountain bike in some of the world's most iconic events. Every year, endurance athletes worldwide make the pilgrimage to Leadville, Colo., with the single goal of competing in "The Race Across the Sky." Visit www.leadvilleraceseries.com for more information. 
About New Balance
New Balance, headquartered in Boston, MA has the following mission: Demonstrating responsible leadership, we build global brands that athletes are proud to wear, associates are proud to create and communities are proud to host. New Balance is currently the only major shoe company that manufactures athletic footwear in the U.S.; in 2013, 1 out of every 4 pairs of shoes we sold in the U.S. was made or assembled here. New Balance owns five factories in New England and one in Flimby, U.K. New Balance employs more than 4,000 associates around the globe, and in 2013 reported worldwide sales of $2.73 billion. To learn more about how New Balance Makes Excellent Happen, please visit http://www.newbalance.com. 
About Life Time Fitness, Inc.
As The Healthy Way of Life Company, Life Time Fitness (NYSE:LTM) helps organizations, communities and individuals achieve their total health objectives, athletic aspirations and fitness goals by engaging in their areas of interest — or discovering new passions — both inside and outside of Life Time's distinctive and large sports, professional fitness, family recreation and spa destinations, most of which operate 24 hours a day, seven days a week. The Company's Healthy Way of Life approach enables members to achieve this by providing the best programs, people and places of uncompromising quality and value. As of August 12, 2014, the Company operated 112 centers under the LIFE TIME FITNESS® and LIFE TIME ATHLETIC® brands in the United States and Canada. Additional information about Life Time centers, programs and services is available at lifetimefitness.com.
# # #