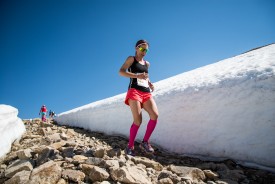 Leadville Race Crew Clearing Miles of Snow off Course in Time for Race; Perfect Race for Beginner Ultra Runners on Iconic Leadville Course
Leadville, Colo., June 14, 2016—On Saturday, June 18th, the Blueprint for Athletes Leadville Trail Marathon and Heavy Half Marathon will kick off the famed ultra endurance event season in Leadville, Colorado presented by Life TimeSM – The Healthy Way of Life Company.
With the substantial spring snowfall in the Colorado Rocky Mountains, the Leadville Race Series Crew has been prepping the course and working to clear snow roughly four feet high for more than two miles of trail. Their hard work pays off on race day, though, for all participants with a clear running path for runners on the course.
"It's not uncommon for there still to be snow at higher elevations in June and we're always ready and prepared to shovel and clear the snow away for our participants and give them the best race experience Leadville is known for," said Josh Colley Leadville Race Series Director.
The Blueprint for Athletes Leadville Trail Marathon and Heavy Half Marathon begins the Colorado portion of the Leadville Race Series and the courses are perfect introductory races to those looking to embark on attempting longer ultra endurance events like the Silver Rush 50 or as a training event for the Leadville Trail 100.
The Marathon and Heavy Half courses run through the historic mining district of Leadville and climb up to 13,185 feet at the top of Mosquito Pass. The challenging three-mile climb includes rocky terrain and switchbacks and racers are rewarded with breathtaking views of Turquois Lake and the Mosquito and Sawatch Ranges including Mount Elbert the highest peak in Colorado.
The race is filling fast and online registration closes Thursday, June 16th at 8 a.m. In-person registration will be offered Friday, June 17th from 11:00 a.m.-7:00 p.m. and race morning, Saturday June 18th from 6:00 a.m. – 7:15 a.m. Register and find more information at www.leadvilleraceseries.com
The race begins on Saturday, June 18th at 8:00 a.m.
The Leadville Marathon is also the first event in the famed Leadman/Leadwoman competition where athletes participate in five Leadville Race Series events throughout the summer culminating in the ultimate challenge, the Leadville Trail 100 Run.
About Life TimeSM, The Healthy Way of Life Company
Life Time is a privately held, comprehensive health and lifestyle company that offers a personalized and scientific approach to long-term health and wellness. Through its portfolio of distinctive resort-like destinations, athletic events and corporate health services, the Healthy Way of Life Company helps members achieve their goals everyday with the support of a team of dedicated professionals and an array of proprietary health assessments. As of June 2016, the company operates 121 centers in 26 states and 35 major markets under the LIFE TIME FITNESS® and LIFE TIME ATHLETIC® brands in the United States and Canada. Additional information is available at www.lifetimefitness.com.
# # #