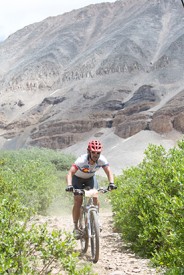 WHAT: On Saturday, July 12 and Sunday July 13th, Life Time – The Healthy Way of Life CompanySM, will bring hundreds of mountain bikers and runners to the Silver Rush 50 Mountain Bike and Run Race events in Leadville, Colorado.
"The Silver Rush mountain bike and run races are great events to try your first ultra distance event and experience the excitement and thrill of what 'Racing Across the Sky' in Leadville is like," said Leadville 100 Race Series Director Josh Colley. "Less than 200 spots remain so we're urging interested mountain bikers and runners to sign up now."
The Silver Rush 50 Mountain Bike Race The 50-mile out-and-back course takes racers through the historic mining district on the east side of Leadville, passing many grand and historic gold and silver mines. It will begin at the Cloud City Ski Hut (located just below Colorado Mountain College on Hwy 24 on the south end of Leadville). None of the roads used will be closed to vehicle traffic, so please use caution. The courses will be well marked with fluorescent pink-and-black-striped ribbon and chalk arrows. Fully-stocked aid stations will be available.
The Silver Rush 50 also serves as a qualifying event for the Leadville Trail 100 Mountain Bike Race on August 9, 2014. Each Leadville Qualifying Series race provides 25-100 qualifying slots to the Leadville Trail 100 MTB, based on the total number of registered riders at each qualifier event. Half of the qualifying spots will be allocated based on the top age-group performances and half will be drawn among riders who have finished the qualifier race within the allocated cut-off time. The Silver Rush 50 participants also can have their starting corral position boosted for the Leadville 100 MTB event if they finish in a certain timeframe as well.
The Silver Rush 50 Run Race
Runners take on 50 miles of extreme territory that starts at 10,200 feet and reaches 12,000 feet on four separate occasions at the Silver Rush 50 Run. It leaves runners lungs burning, heart pounding and eyes completely amazed — while also preparing the racers for the pinnacle Leadville Trail 100 Run.
Silver King and Silver Queen Race One race not enough? Try two days of exhilarating challenges. First, spend Saturday riding the Silver Rush 50 MTB, and follow it up on Sunday with the Silver Rush 50 Run. Finish both and these racers earn respect from everyone. Finish both events within the allotted time and forever be known as a Silver King or Silver Queen.
Register for all races and find additional information at www.leadvilleraceseries.com
WHEN:
Saturday, July 12th Silver Rush 50 Mountain Bike Race 9 a.m.  Race Begins
Sunday, July 13th Silver Rush 50 Run 6 a.m. Race Begins.
WHERE: July 12-13, both races begin at the base of Dutch Henri Hill, Leadville, Colo.
VISUALS/INTERVIEWS
Visuals include participants cycling and running through town of Leadville and on nearby trails, spectators cheering on athletes, post-race festivities and the presentation of awards and cash purse.  Interviews with athletes, organizers and spectators are available upon request.
* MEDIA NOTE: To schedule an interview with race director or athletes above or for on-site media credentials please contact Kate Lessman at 970-333-3395 (cell) or by email at Kathleen.lessman@gmail.com
ZERO WASTE EVENT  All Leadville 100 Race Series events are Zero Waste events and will have recycle and compost bins at every aid station and at the start and finish. The Leadville 100 Race Series will be recycling all plastic, aluminum and cardboard during these races, and all our events.
About Life Time Fitness, Inc.
As The Healthy Way of Life Company, Life Time Fitness (NYSE:LTM) helps organizations, communities and individuals achieve their total health objectives, athletic aspirations and fitness goals by engaging in their areas of interest – or discovering new passions – both inside and outside of Life Time's distinctive and large sports, professional fitness, family recreation and spa destinations, most of which operate 24 hours a day, seven days a week. The Company's Healthy Way of Life approach enables customers to achieve this by providing the best programs, people and places of uncompromising quality and value. As of July 10, 2014, the Company operated 111 centers under the LIFE TIME FITNESS® and LIFE TIME ATHLETIC® brands in the United States and Canada. Additional information about Life Time centers, programs and services is available at lifetimefitness.com.
# # #