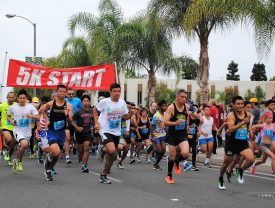 La Palma's 39th Annual Fitness Run For Fun
LA PALMA, Calif. – Join us for La Palma's 39th annual Fitness Run for Fun on Thursday, July 4.  This event features a competitive 5K and 10K Run plus a 5K Walk –one of the few in Southern California –and a non-competitive Yankee Doodle Dash for kids ages 12 and under. This is a great, healthy way to start off your 4th of July celebration while also experiencing a small-town community event!  
Pre-registration is open until June 30, at the following prices:
$37 – Registration with a commemorate T-Shirt (credit card fees apply)
$10 – Yankee Doodle Dash (for kids ages 12 and under)
$5 – Pancake Breakfast Ticket

 
After June 30 you will only be able to register on Race Day, starting at 6:00 a.m., for the following prices:
$42 – Entry Fee (no commemorative t-shirt included)
$12 – Yankee Doodle Dash (if space is available)
$12 – Commemorative T-Shirt (if available)
After the competitions, gather your family and friends together and head over to the Fun Zone in Central Park. Celebrate America's birthday with your family and friends and don't forget to stop by the Central Park Amphitheater at 9:15 a.m. for the Awards Ceremony. ). At the Awards Ceremony, the top three finishers in each category will be recognized with cash prizes given to the overall top male and female finishers in each race. All participants will receive a finisher medal!
For more information or to register, please visit: www.cityoflapalma.org/run. 
The Fitness Run would not be possible without the City's Sponsors: EDCO-Park Disposal & Rutan & Tucker, LLP.
About the City of La Palma
Ranked by Money Magazine in 2015, 2013, 2011, and 2007 as one of America's Best Places to Live, the City of La Palma is a 1.9 square mile general law city in northwest Orange County, consisting of over 15,568 residents and approximately 300 commercial and industrial businesses. The City was incorporated in 1955 under the name of Dairyland and has 52 full-time and 35 part-time employees.
Contact Information
Community Services Department
7821 Walker Street
La Palma, CA 90623
Tel: (714) 690-3350
Email: runforfun@cityoflapalma.org