La Fortuna hosts second edition of GFNY Costa Rica
July 4, 2019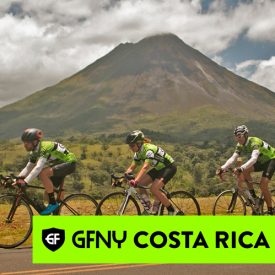 GFNY celebrates Pura Vida in scenic Costa Rica this Sunday July 7th
NEW YORK CITY, July 4, 2019 – A challenging but beautiful course, La Fortuna in Costa Rica hosts the start and finish of GFNY Costa Rica this Sunday, July 7th.
GFNY Costa Rica is a challenge of elements and diverse terrain. The 150 km (2714 meters of climbing) long competitive course travels west passing through the stunning Arenal Volcano National reserve. The non-competitive short course covers 90 km of the route and 1476 meters of climbing.
The race starts with a 16.8 km ascent towards Lake Arenal dam and from that point riders begin an undulating descent into the little town of "Nuevo Arenal". The undulating course continues on to the city of Tilaran, that signifies the half way point.
From Tilaran riders head towards the city of Canas before turning towards the Tejona windmill energy projects and an uphill windy section before ending the section on technically challenging gravel road.
Rio Piedras Wall present the most challenging climb at 15% gradient before heading home back to the La Fortuna, a well-deserved finish line and post-race party Pure Vida style.
10% of finishers in each age group in the long route will qualify for the Racer Corral at the 2020 Campagnolo GFNY World Championship in NYC on May 17th.
About GFNY
GFNY is the global cycling marathon brand with events held in NYC, Argentina, Bali-Indonesia, Brazil, Chile, Colombia, Costa Rica, Ecuador, Italy, Jerusalem-Israel, Indonesia, Cozumel-Mexico, Monterrey-Mexico, Panama, Philippines, Portugal, República Dominicana, Santa Fe-USA and Uruguay.
Riders get to BE A PRO FOR A DAY ® by competing against others, themselves and the clock in a personal endurance challenge.
At all GFNY events, riders have the chance to qualify for the elite racer corral at the GFNY World Championship in NYC by placing in the top 10% (20% at regional championships) of their age group.
Campagnolo GFNY World Championship NYC
The 10th annual Campagnolo GFNY World Championship New York will be held on May 17, 2020. The race features the world's most international peloton with riders from over 90 countries. Athletes take on a challenging 100-mile route from NYC to Bear Mountain to Fort Lee to compete against each other, the clock and themselves in a personal endurance challenge.
The official GFNY website is: www.gfny.com.
GFNY World 2019/20 calendar
Further Material for Media Use
Media Contact
Gran Fondo New York Inc.
Emma Bishop, emma@gfny.com
Uli Fluhme, uli@gfny.com