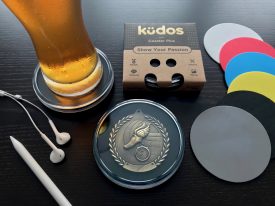 Collaboration gives CARA runners access to Kudos' new product, enhancing the member experience
CHICAGO, January 10, 2019 – Kudos is pleased to announce a partnership with the Chicago Area Runners Association (CARA) as the company continues to spread the word about its new Kudos Coaster Plus. As part of the agreement, CARA will award Kudos' unique, patent-pending product to attendees at select races and events.
The Kudos Coaster Plus is a customizable case and coaster designed to display race medals. More compact and less expensive than wall-mounted frames, the product combines form and function to securely fit most medal shapes and sizes, and can also be used to display race photos or other cherished keepsake items.
"As a Chicago-area runner and the founder of a Chicago-based company, working with CARA is an absolute thrill," said Kudos President and CEO Ryan DeBoer. "CARA has had a positive impact on Chicago's running community for decades, and we're honored our product will be given as an award at future CARA races and events."
Founded in 1978, CARA is a non-profit organization committed to serving and advocating for the local running community. As Chicagoland's running club, CARA provides accessible opportunities for all runners to train, race, learn, be social and volunteer. CARA is the nation's third-largest running club, serving as the voice of local runners, as well as providing over 800 dates of programming and events per year. Learn more at www.cararuns.org.
"We're fortunate to have some of the most influential brands in the running industry supporting our mission, and we're excited to add Kudos to that list," said Greg Hipp, Executive Director of CARA. "Kudos offers a completely unique product that helps runners celebrate their accomplishments, and it will undoubtedly enhance their experience at our events and races."
The Kudos Coaster Plus was created as a better way to store and feature race medals. Over the last six years, DeBoer developed the product into its current form which includes a clear, removable acrylic top and a polyurethane base providing stability and grip. Colored Tru-Fit inserts allow users to pick a backdrop that complements their medal, and the inserts can be removed to accommodate medals of varying thicknesses. 
About Kudos
Kudos, a registered trademark of RLRD, LLC, helps people share, preserve and display their memorable accomplishments with pride. The company approaches old things in new ways by producing inexpensive, quality-built products that combine form and function. For more visit www.kudos2u.com. 
Contact: William Polk
Email: william@kudos2u.com