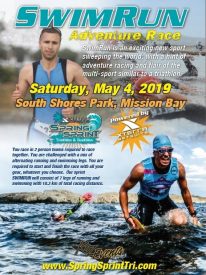 New SwimRun Team Endurance Race Will Include Over 10K of Racing
(San Diego, Calif) – KOZ Events today announced that it will be adding a new SwimRun race format to its 19th Annual XTERRA WETSUITS Spring Sprint Triathlon Festival May 4-5th in San Diego. The new SwimRun Team Endurance Race is modeled after the European endurance event and will consist of two-person teams alternating swimming and running legs for a total distance of 10.3K of racing. 
Held at 10AM on May 4th, the SwimRun will be comprised of seven legs, including three swims and four runs and is open to two-person teams who must race together.
"SwimRuns have been hugely popular in Europe as the next-level endurance challenge," said Tobias Panek, co-owner of KOZ Events. "We are thrilled to be able to introduce this adventure race to our athletes. Not only is it a huge fitness challenge, but it's a great way to bond with your racing partner and the endurance sport community." 
The SwimRun race format originated in Europe as an "island to island" event in a Swedish archipelago. Because of the point-to-point nature of the race, athletes had to bring and carry all of the gear they would need. The XTERRA WETSUITS Spring Sprint Triathlon Festival is staying true to the original racing format and will require athletes to start and finish will all gear. Partners need to stay within 20 feet of each other, which makes this a true team effort. 
"Triathlon is largely an individual sport, but the SwimRun brings a team spirit to the XTERRA WETSUITS Spring Sprint Triathlon festival," said Keith Simmons, co-owner of XTERRA WETSUITS.  "We are excited about being on the cutting edge of SwimRuns on the west coast, because the sport is growing so quickly among athletes seeking out adventure." 
The XTERRA WETSUITS Spring Sprint Triathlon Festival has been an annual event for almost 20 years and includes Sprint and International triathlon distance races, a Duathlon, Aquabike, Aquathlon, kids' events, and the new SwimRun. The race is the first of the San Diego Triathlon Triple Crown Series, which includes the XTERRA WETSUITS Spring Sprint Triathlon, the CVC San Diego Half Triathlon, and the XTERRA WETSUITS Mission Bay Triathlon. 
This year, the XTERRA WETSUITS Spring Sprint Triathlon Festival will also host the USA Triathlon West Sprint Regional Championship as well as the USA Triathlon West Youth & Junior Regional Championship. 
Taking place over the entire weekend, the XTERRA WETSUITS Triathlon Festival will kick off on Friday, May 3rd with packet pickup at Road Runner Sports in San Diego. Saturday, May 4th will feature the SwimRun, at South Shores Park, Mission Bay. Sunday will include the International and Sprint Triathlons, Duathlon, Aquabike, & Aquathlon.
The XTERRA WETSUITS Spring Sprint Triathlon Festival will also include a two-day expo at South Shores Park in Mission Bay as well as live music, delicious food, and a healthy and fun atmosphere. Sunday, May 5th will feature Live Music as well as a Beer and Wine Garden, which will benefit the Challenged Athletes Foundation. Beer will be provided by Ballast Point and 3 Hills Winery in Ramona will supply the wine.
Sponsors for the XTERRA WETSUITS Spring Sprint Triathlon include XTERRA WETSUITS, NUUN Hydration, Rehab United, Pulse Endurance Sports, the Triathlon Club of San Diego, and Perspective Fit Wear. 
SCHEDULE OF EVENTS
Friday, May 3rd 
Packet Pickup from 3:00-6:00 PM at Road Runner Sports, 5553 Copley Dr, San Diego
Saturday, May 4th at South Shores Park, Mission Bay
SwimRun
Expo
Course Talks
Sunday, May 5th at South Shores Park, Mission Bay
International Race
Sprint Race
Duathlon
Aquabike
Aquathlon
Youth & Junior Racing
More Information: 
www.SpringSprintTri.com
About KOZ Events 
KOZ Events is San Diego's premier full-service special events company providing race management in San Diego County. Founded in 1981, KOZ Events specializes in multi-sport events including: triathlons, duathlons, aquabikes, runs, walks, and cycling events. In addition, KOZ provides expert operational, logistical, and event setup/breakdown assistance on a contract basis. www.KOZEvents.com
About San Diego Triathlon Series
The San Diego Triathlon Series is offering 6 Triathlons for 2019. The series events draw competitors from around the country and internationally which brings a high level of competition to San Diego, the birthplace of Triathlon. The distances offered range from the Sprint to the CVC San Diego Half 70.3 Mile Triathlon. www.SDTriSeries.com