Kane Footwear releases ocean-inspired Revive to celebrate Earth Day
April 21, 2022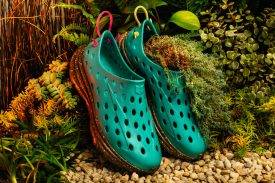 The Tropic/Dark Earth colorway marks newest addition to Kane's Earth Day limited-edition collection
Westport, CT (April 21, 2022) /ENDURANCE SPORTSWIRE/ – Kane Footwear, the footwear brand promoting health for your body and the planet, released a limited edition Tropic/Dark Earth Speckle colorway to celebrate ocean health and their commitment to sustainable practices.
The lifecycle of Kane's flagship Revive slip-on – from harvesting the raw materials for their sugarcane-based shoes to shipping in FSC-certified packaging – is carefully planned to ensure the most Earth-friendly manufacturing process. Kane's manufacturer in Brazil was selected for their eco-conscious hydroelectric energy source and careful attention to water usage. Kane ensures that their injection-molding process produces zero waste, with every scrap being ground up and used in future shoes. In this way, Kane celebrates Earth Day well beyond April 22.
"In addition to creating a sustainable product with the Revive's renewable, sugarcane-based BounceBack foam, we wanted to ensure our full supply chain was in line with our values," John Gagliardi, founder of Kane Footwear, said. "From choosing the best manufacturing partner to using our boxes as the shippers, we're working to do the best we can for our planet."
Kane has been conscious of their carbon footprint from the outset, from their manufacturing process to the materials they use. Their sugarcane-based BounceBack foam, made from sugarcane ethanol, holds carbon sequestered during the sugarcane's growth process, making it a carbon negative material.
In an effort to continue expanding their best practices, Kane partners with 1% For the Planet to contribute to climate solutions and Sole for Souls to ensure no products go to waste, and all are put to the best use possible. They are also in the process of becoming a Certified B-Corp.
For all Kane Footwear media inquiries please reach out to Maddie Jarrard: maddie@purpleorangepr.com.
About Kane Footwear
Headquartered in Westport, CT, Kane is a footwear brand dedicated to the recovery of body and planet. Implementing expert driven design, biobased manufacturing, and modern aesthetics, Kane is creating active recovery footwear for mindful movers. Their flagship Revive slip-on, designed in collaboration with Board Certified foot and ankle surgeon Dr. Dan Geller, is built with eco-based materials and an active recovery design that promotes healing. John Gagliardi, Kane's founder and CEO, spent over two years to research materials, design and develop the Revive. You can learn more at www.kanefootwear.com.