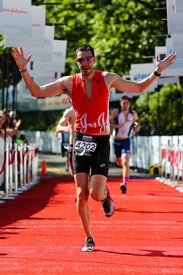 More than 500 Johnson & Johnson participants will raise more than $250,000 this year for The Children's Hospital of Philadelphia at 10th annual race on June 21-22
PHILADELPHIA, PA—June 17, 2014 – The Johnson & Johnson TriRock Philadelphia Triathlon presented by Philadelphia Insurance Companies is returning for its 10th year on June 21 and 22. Title sponsor Johnson & Johnson has doubled its number of participants from last year with more than 500 triathletes of all abilities racing in the Sprint and Olympic distance races.
Team Johnson & Johnson will raise more than $250,000 for The Children's Hospital of Philadelphia (CHOP) this year, and have raised almost $500,000 overall.  The money raised has helped provide children and adolescents from all over the United States with cutting edge treatments like T-cell therapy and molecularly targeted drugs.
"Johnson & Johnson is proud to be title sponsor of the TriRock Philadelphia Triathlon, and we commend our team for raising funds for CHOP to benefit cancer research" said Alex Gorsky, Chairman and CEO of Johnson & Johnson.  "Our collective efforts reflect the Johnson & Johnson Credo values of supporting the communities we live and work in and our commitment to health and wellness."
TriRock Philadelphia Triathlon will feature a Sprint distance race at 7:30 am on Saturday, June 21 and an Olympic distance race at 6:30 am on Sunday, June 22.  The triathlon is located in a beautiful part of Fairmount Park, complete with statues, trees and grassy fields.  The courses will travel through some of the most historic and picturesque sections of Philadelphia, with the start/finish area and transition area located just off of Martin Luther King Drive, near the base of Black Road.
The weekend not only features a rocking competition, but also infuses entertainment along the bike and run courses, followed by a post-race party and concert. Like all TriRock events, Philadelphia participants will be treated to finisher's medal, technical t-shirt, red carpet finish, post-race breakfast and beer garden. Event weekend kicks off with a free two-day Health & Fitness Expo on Friday, June 20 where all participants pick up their race number.
For more information about the TriRock Triathlon Series presented by REI visit TriRockSeries.com. 
About Johnson & Johnson
Caring for the world, one person at a time…inspires and unites the people of Johnson & Johnson. We embrace research and science – bringing innovative ideas, products and services to advance the health and well-being of people. Our approximately 127,600 employees at more than 275 Johnson & Johnson operating companies work with partners in health care to touch the lives of over a billion people every day throughout the world. 
About The Children's Hospital of Philadelphia
The Children's Hospital of Philadelphia has one of the largest pediatric cancer programs in the United States, which has been ranked No. 1 in the nation by Parents magazine in its 2013 report of 10 Best Children's Hospitals.. Its large basic and clinical research programs are particularly strong in pediatric neuro-oncology, neuroblastoma, leukemia and lymphoma, and sarcomas. Of all pediatric institutions, Children's Hospital enrolls the most patients in national clinical trials, working in close collaboration with national organizations such as the Children's Oncology Group. Physicians at Children's Hospital have had pioneering roles in developing international standards for diagnosing and treating neuroblastoma, and in developing programs for survivors of childhood cancer. 
About the TriRock Triathlon Series presented by REI
Organized by Competitor Group, the TriRock Triathlon Series presented by REI has grown into one of the Nation's premier multisport event series, taking place in seven cities across the U.S. in 2014. The triathlon events feature Olympic and Sprint distances with music positioned along the run route. Each event also features a finish line festival with a beer garden, post-race breakfast, red carpet finish and a finish line concert. The TriRock Series is part of Competitor Group's larger triathlon platform which features a world-class triathlon series and the world's #1 triathlon website #1  magazine—Triathlete. The platform also includes The Events DC Nation's Triathlon To Benefit The Leukemia & Lymphoma Society, one of the most prestigious triathlons in the United States. For more information, please visit TriRockSeries.com or follow @TriRockSeries on Twitter.
# # #