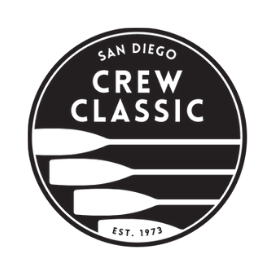 The annual Crew Classic regatta will take place this weekend April 6 & 7th at Mission Bay, San Diego
(SAN DIEGO, CA- APRIL 4, 2019) – The San Diego shoreline is picking-up in spirit, as event planners and volunteers of the 46th Annual San Diego Crew Classic start to set up for the nationally recognized rowing event.
The community is encouraged to plan in advance by purchasing tickets online to avoid lines and also secure a discount. Attendees are guaranteed to soak up city views, enjoy access to food trucks and a diverse offering of local craft beers, cider and wine, along with the fun and experience that comes with cheering on some of the nation's top athletes.
One of the most popular events of the weekend to is the San Diego Crew Classic 26th Annual Brunch by the Bay.
In the same spirit as the famous Royal Henley and Head of the Charles Regattas, the Crew Classic Brunch offers guests a luxurious tented location in which to watch the boats cross the finish line while savoring a delicious gourmet brunch by Giuseppe catering, espresso coffees and Crew Classic cocktail designs by SnakeOil Cocktails. More than 300 friends, family, alumni groups, reunion crews, colleagues, clients, teams, clubs and fans will join in this beloved Crew Classic tradition. Athletes in rowing blazers and ladies in hats add to the event's festive atmosphere.
Media has been taking note of this popular event. Highlights include:
Heather Lake of Fox5 News will be broadcasting live Friday, 4/5 at 8am.
Interim Executive Director of the Crew Classic Luke Walton garnished a full feature in Authority Magazine
Olympic Rower Susan Francia was interviewed by Entrepreneur Magazine's David Meltzer
The LA Times, San Diego Tribune, and San Diego Magazine inclusions of this year's race

 

@RowingRelated  @RowingBible and @henleywatch are posting about the regatta to their global social audiences.
A detailed Spectator Resource is found on the Crew Classic site that includes a full-schedule of the weekend, transportation information, and site map.
Cheers to The Crew Classic!
About the Crew Classic
Rowing is the oldest collegiate sport in the United States, beginning with the Yale vs. Harvard race of 1852. Since the sport's inception, the elite Ivy League schools dominated the Collegiate Championships until the late 1970s. As a result, many of the Ivy League crew members were selected for the National and Olympic teams, excluding many west coast rowers. The Crew Classic has played an important role in shifting the balance of the "powerhouse" rowing programs from the east to now include programs from the west coast. The San Diego Crew Classic is Funded in part with the City of San Diego Tourism Marketing District Assessment Funds.