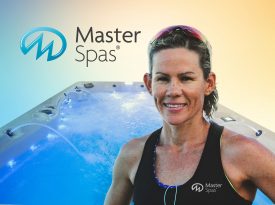 FORT WAYNE, Ind. — June 18, 2019 —Master Spas, the largest swim spa manufacturer in the world, is excited to announce its newest brand ambassador — IRONMAN World Champion Mirinda Carfrae.
Carfrae is an accomplished triathlete with three IRONMAN World Championship wins on her resume. The Australian native is building momentum, with a win at IRONMAN 70.3 Victoria and a second-place finish at Challenge Cancun as she sets her sights on the 2019 championship in Kona on October 12.
As part of the partnership, Carfrae will begin training in the latest innovation from Master Spas — an H2X Fitness Swim Spas Challenger model.
"I'm really excited to be partnering with Master Spas," Carfrae says. "IRONMAN training takes up a lot of my day and having a swim spa at home will not only save time but also allow me more time with our baby daughter Isabelle.  She loves the water, too. There's a high probability that play time with her in the swim spa will surpass my swim training time."
The Challenger series from Master Spas bridges the gap between traditional jetted swim spas and propulsion systems. The unique airless jet system creates a water current that is more efficient, powerful, and smoother than the competition. With the ability to control the resistance and temperature, novice swimmers to competitive triathletes can enjoy a continuous swimming experience that mimics open water. That's why swim spas from Master Spas are the official swim spa of the IRONMAN World Championship.
Carfrae, who is known as Rinny, began racing triathlons at the age of 19. In 2001, she made the 2001 Australian Junior Elite Team and hasn't looked back since. She's taken the win three times at the IRONMAN World Championships in Kona, as well as won more than 20 IRONMAN 70.3 events. She trains in Boulder, Colorado, where she lives with husband Tim O'Donnell and daughter Isabelle.
"We are thrilled to welcome Rinny into the Master Spas Family," says Kevin Richards, vice president of sales and marketing. "Rinny is a fierce competitor who wants to be at her best, all the while taking care of daughter Isabelle. Like so many people, she has to balance her training with being a mom, wife, and business woman. Swim spas from Master Spas can help people of all levels train better and recover smarter while keeping family first."
Carfrae joins Master Spas brand ambassadors IRONMAN champion Ben Hoffman, legendary swimmer Michael Phelps and gymnast Aly Raisman.
About Master Spas
Master Spas is based in Fort Wayne, Indiana, 90 miles northeast of Indianapolis. Operating out of a state-of-the-art, 460,000-square-foot manufacturing facility on a 33-acre manufacturing campus, Master Spas is the largest portable spa, hot tub and swim spa manufacturer in the world with all products built in the U.S.A. The company's executive team boasts more than 150 years of spa manufacturing success and one of the strongest track records in the industry. For more information, please visit: www.MasterSpas.com.