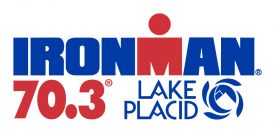 Iconic IRONMAN 70.3 race in the Adirondack Mountains nominated in multiple categories including Best Large Event and Best Scenic Course; Voting remains open through Friday, Jan. 11
TAMPA, Fla. (January 9, 2019) – It has been announced that the IRONMAN® 70.3® Lake Placid triathlon has been named as a finalist for the Triathlete Business International's (TBI) Triathletes Choice Best-of Events in multiple categories including Best Large Event and Best Scenic Course. Voting is currently open through Friday, Jan. 11, at midnight PST with winners being announced at the 2019 Annual TBI Conference, being held on January 25-27.
Alongside its full-distance counterpart IRONMAN Lake Placid, this iconic North American triathlon located in the Adirondack mountains offers the ultimate IRONMAN family vacation in one of the most popular venues around the IRONMAN 70.3 circuit. Having hosted two Olympic Games (1932 and 1980), the charming town of Lake Placid knows how to deliver a world-class athletic event. It's also the home of one of the most challenging IRONMAN 70.3 courses with its famous Adirondack climbs.
Voting remains open and ballots can be cast by visiting: www.surveymonkey.com/r/2018TriathletesChoice
For more information on Triathlete Business International, the conference program and a registration link for the 9th Annual conference can be found on TBI's conference website here: www.triathlonbusinessintl.com/2019-conference.html
For more information on IRONMAN 70.3 Lake Placid, visit www.ironman.com/lakeplacid70.3. For more information on the IRONMAN brand and global event series, please visit www.ironman.com. Media may contact press@ironman.com.
###
About IRONMAN
As part of Wanda Sports Holdings, the IRONMAN Group operates a global portfolio of events that includes the IRONMAN® Triathlon Series, the IRONMAN® 70.3® Triathlon Series, 5150™ Triathlon Series, the Rock 'n' Roll Marathon Series®, Iron Girl®, IRONKIDS®, International Triathlon Union World Triathlon Series races, road cycling events including the UCI Velothon® Series, mountain bike races including the Absa Cape Epic®, premier marathons including the Standard Chartered Singapore Marathon, trail running like Ultra-Trail Australia™, and other multisport races. IRONMAN's events, together with all other Wanda Sports Holdings events, provide more than a million participants annually the benefits of endurance sports through the company's vast offerings. The iconic IRONMAN® Series of events is the largest participation sports platform in the world. Since the inception of the IRONMAN® brand in 1978, athletes have proven that ANYTHING IS POSSIBLE® by crossing finish lines at the world's most challenging endurance races. Beginning as a single race, IRONMAN has grown to become a global sensation with more than 230 events across 53 countries. For more information, visit www.ironman.com.
About Wanda Sports Holdings
Wanda Sports Holdings is the world's leading sports business entity, founded to capture the opportunities in the global sports industry and to contribute to the prosperous international sports landscape – in three key areas: 1) Spectator Sports (media and marketing business), 2) Participation Sports (active lifestyle business), 3) Services (digital, production and service business). Wanda Sports Holding incorporates the international sports marketing company Infront Sports & Media, the iconic endurance brand IRONMAN, and Wanda Sports China. The headquarters are in Guangzhou, China.