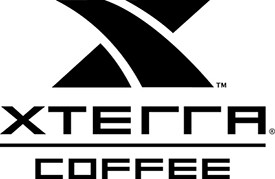 XTERRA joins forces with Coffee Without Borders, which uses the global currency of coffee to improve the quality of life for people living in developing countries.
Honolulu, HI (May 6, 2014) –  What do you see so many people "clutching" as they prepare for the start of an XTERRA race?
Coffee
"So, what better way to start your day than with the new XTERRA Coffee," said XTERRA CEO Tom Kiely.
"We proudly announce a new partnership with Coffee Without Borders for a Hawaii-roasted brand of XTERRA Coffee.  We are so excited because we have been searching for a coffee partner and to align ourselves with a "roasted in Hawaii" partner is the perfect alliance," added Kiely. "When I went to the roasting facility and discussed a special blend for XTERRA, I knew it would be a favorite of the XTERRA Tribe. On top of that, Coffee Without Borders is a cause-based group which helps struggling coffee farmers, many of whom are in impoverished regions."
Coffee Without Borders uses the global currency of coffee to improve the quality of life for people living in developing countries. As one of the most heavily traded commodities in the world, coffee is primarily cultivated in poor countries, while the majority of it is consumed by the wealthy.
"As such, we recognize the importance of fair trade, which assures that the small coffee farmer in developing countries will receive a proper price for their product and labors," said Coffee Without Borders CEO Ed Sowers.  "In addition, we will go one step further by returning 100% of our profits to the humanitarian aid organizations like Global Hope Network International, who invests in sustainable community development and other humanitarian assistance projects. So enjoy a great cup of coffee and be further warmed by knowing also, you are helping others too."
To order visit www.xterracoffee.com.
TEAM Unlimited is a Hawaii-based television events and marketing company, founded in 1988.  It owns and produces XTERRA and in 2014 will offer more than 300 XTERRA off-road triathlon and trail running races in 26 countries worldwide.  In addition, TEAM TV has produced more than 300 adventure television shows resulting in three Emmy's and 42 Telly Awards for production excellence since 1990.  View samples at www.xterra.tv, and learn more at xterraplanet.com and xterratrailrun.com.