Inaugural Oakley GFNY Barcelona Kicks Off on March 22, 2015
March 18, 2015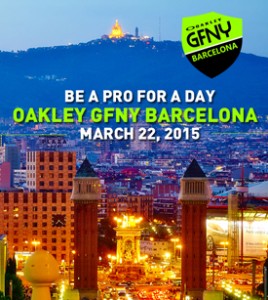 NEW YORK CITY, March 18, 2015 –  The inaugural OAKLEY GFNY BARCELONA will be held on March 22, 2015 in Barcelona, Spain. A sold out field of 1,000 riders from over 25 countries tackles the challenging course that starts at Placa d'Espanya in the heart of the city. It finishes close to the start at famous Montjuic, the site of the 1992 Olympic Games and finish of the Tour of the Basque Country professional race.
Oakley GFNY Barcelona is poised to become one of the most important granfondos in the world already from its inaugural edition. Barcelona's influence in commerce, sports, entertainment, media, fashion, and the arts all contribute to its status as one of the world's major global cities. It is internationally renowned as a tourist destination, with numerous recreational areas, one of the best beaches in the world, mild and warm climate, historical monuments, including eight UNESCO World Heritage Sites, many quality hotels, and a developed tourist infrastructure.
It's already spring in Barcelona with perfect temperatures to ride on hills, through scenic towns like Vilafranca, Sitges and Castelldefels and along the Mediterranean Sea.
Oakley GFNY Barcelona provides two distance options: a 100mi / 160km long route with 9,500ft / 2,900m of climbing and a medium route of 68mi / 110km with 6,500ft / 2,000m of climbing.
About Gran Fondo New York
The 5th annual Campagnolo Gran Fondo New York on May 17, 2015 will be the first GFNY Championship. The race features the world's most international peloton with riders from over 70 countries and 48 US states. Athletes will take on a challenging 100-mile route from NYC to Bear Mountain and back to compete against each other, the clock and themselves in a personal endurance challenge.
The 50-mile GFNY BEAR on the same day is a non-competitive ride from NYC to Bear Mountain.
GFNY WORLD now features events in Italy, Mexico, Puerto Rico, Colombia, Spain, France and Argentina. Campagnolo Gran Fondo New York raises funds for Operation Smile, the international children's medical charity.
The official Gran Fondo New York website is:  gfny.cc.
Further Material for your use
Press Release Campagnolo Gran Fondo New York 2015: here