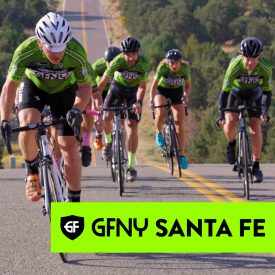 GFNY Global Cycling Marathon Series heads west for a highly-anticipated second USA GFNY event in Santa Fe, New Mexico
NEW YORK CITY, Nov 16, 2018 – After many years of rapid expansion overseas, GFNY Santa Fe is the second US event that GFNY fans have been waiting for.
An easy 50-minute drive from Albuquerque Airport, Santa Fe is a culinary, outdoor recreation and cultural destination. The Pueblo-Spanish style of architecture, unique shopping, art galleries and fantastic restaurants make for a quintessential Southwestern-US experience.
GFNY Santa Fe riders will be treated to spectacular and diverse terrain through the plains and rolling hills of the high desert, quiet roads and ideal climate conditions. The GFNY Santa Fe race course starts in the heart of the charming city of Santa Fe then travels onto fully police-controlled roads while surrounded by pronounced forestry and various mountain ranges and culminating in a beautiful 23km climb with 1000m of elevation gain to the top of Ski Santa Fe.
The long route is 130km / 81 miles with 2288m / 7500ft of climbing and features a mountain-top finish at Ski Santa Fe. The medium route is 88km / 55 miles with 1018m / 3300ft of climbing and will travel a slightly shorter loop and a festive finish line where the race had started.
It is recommended to bring your climbing gears for this race, no grades are steeper than 12%, but the thin air will make it seem steeper!
"International riders will be spoiled by how all that Santa Fe has to offer," said Uli Fluhme, CEO of GFNY. "For American GFNY fans who have been waiting for another event in the USA and do not want to travel internationally, Santa Fe is an easy flight West – no passport required."
The long route will serve as a qualifier for the Racer Corral at the 2020 Campagnolo GFNY World Championship in NYC.
"Santa Fe is a world-class destination city with a wide range of lodging, family recreation and relaxation," said Lidia Fluhme, President and co-founder of GFNY. "It is the perfect place to combine a GFNY event with a vacation."
Registration for GFNY Santa Fe is now open at gfnysantafe.com
About GFNY
GFNY is the global cycling marathon brand with events held in NYC, Bali-Indonesia, Brazil, Chile, Colombia, Costa Rica, Santa Fe-USA, Germany, República Dominicana, Indonesia, Italy, Jerusalem-Israel, Cozumel-Mexico, Monterrey-Mexico, Panama, Philippines, Portugal and Uruguay.
Riders get to BE A PRO FOR A DAY by competing against others, themselves and the clock in a personal endurance challenge.
At all GFNY events, riders have the chance to qualify for the elite racer corral at the GFNY World Championship in NYC by placing in the top 10% (20% at regional championships) of their age group.
Campagnolo GFNY World Championship NYC
The 9th annual Campagnolo GFNY World Championship New York will be held on May 19, 2019. The race features the world's most international peloton with riders from over 90 countries. Athletes take on a challenging 100-mile route from NYC to Bear Mountain to Fort Lee to compete against each other, the clock and themselves in a personal endurance challenge.
The official GFNY website is: www.gfny.com.
GFNY World 2018 calendar
25 November GFNY CHILE
GFNY World 2019 calendar
27 January GFNY PHILIPPINES
25 February GFNY BALI
17 March GFNY MONTERREY
17 March GFNY URUGUAY 
24 March GFNY LATIN AMERICA CHAMPIONSHIP COLOMBIA
31 March GFNY ITALIA
7 April GFNY REPUBLICA DOMINICANA
3 May GFNY MIDDLE EAST – AFRICA CHAMPIONSHIP JERUSALEM
19 May GFNY WORLD CHAMPIONSHIP NYC
23 June GFNY SANTA FE
7 July GFNY COSTA RICA
4 August GFNY BRASIL
18 August GFNY DEUTSCHLAND 
25 August GFNY INDONESIA
8 September GFNY EUROPE CHAMPIONSHIP PORTUGAL
20 October GFNY PANAMA
Further Material for Media Use
GFNY World calendar graphic: here
Previous GFNY press releases: here
GFNY Santa Fe video: here
Media Contact
Gran Fondo New York Inc.
Uli Fluhme
Phone: +1.212.933.4033
Email address: uli@gfny.com