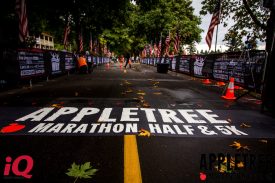 The Run through History offered an accurate course with no issues
Vancouver, WA – Launching a new Marathon is a challenge in any community. How do you differentiate your event from those that have existed successfully for decades? Then, if you add on top of that, Marathons in that community being measured short one year and long the next destroying athletes' dreams of qualifying for Boston, you start to lose confidence from your running community. Within that community, if you also experience scandals, corruption, and last-minute event cancellations, athletes just refuse to sign up. That's exactly what's been happening in the Portland Metropolitan area over the last few years.
It takes some courage to launch an event in a community that has been burned a few times. WHY Racing Events, the producer of 12 different events in the Northwest, took on the challenge and launched the Inaugural APPLETREE Marathon on Sept 15th & 16th 2018 in Vancouver WA, just outside of Portland OR.
"I was excited but also extremely nervous as we approached race weekend," reports Sherri McMillan, the founder and race director for APPLETREE. "There was so much pressure to not mess this up after all the issues we've had in the Northwest. We had numerous redundancies in place to minimize any course errors. We used directional road arrows, directional street signage, and volunteers at all key intersections. We rode the course late the night before and again early on race morning in the dark to assure no one messed with the course. I even was the lead cyclist on course to assure everyone went the right away. I didn't want a course crisis on my watch!" The extra efforts paid off as the course went off without a hitch and reports show that 23 athletes qualified for the Boston Marathon on this course. "I couldn't imagine having those 23 people train for months and then not be able to qualify because we messed up!," says McMillan.
With so many past issues with marathon races in the community, it can be difficult to rally sponsorship support. Companies can be hesitant to support an event that may have a potential for some negative press. "Fortunately, we were able to rally community support right out of the starting gates," reports McMillan. "PEACEHEALTH came on immediately as our Exclusive Health and Wellness partner and agreed to add so much value for our athletes that we instantly started to see excitement in the running community. The Eatery at the Historical Grant House agreed to sponsor the Post-race Meal and Party which paired perfectly with our theme. The Columbian Newspaper came on as our Media Sponsor and that helped us promote the event in the community. Our partners that support the rest of our events have confidence in our event production and fortunately, also signed on immediately including Deschutes Brewery, IQ Credit Union, Fleet Feet, Kind Snacks, Franz Bakery and many others. Quickly, it became clear that we would have a lot of support to make this an incredible community event."
With so many marathon events across the country, how does a new event stand out enough that entices runners to want to sign up. "Vancouver WA is a very historical city with numerous historical landmarks and we wanted to highlight this," says McMillan. The course took athletes through Historical Fort Vancouver, Officer's Row, the Army Barracks, Pearson Airport, the Historical Old Apple Tree, along the majestic Columbia River and many other historical vantage points. "If you're a history buff, this is your race. We hosted Packet Pickup in the Historical Pearson Air Museum and offered pre-race historical walking tours. We posted signage along the course to educate runners as they passed by historical landmarks. It was a running history lesson!," says McMillan.
The course was a 2-loop Marathon course which boasted of aid stations and entertainment every mile and provided for a very spectator friendly course. Spectators could watch their athlete start and then station themselves in certain spots along the course and see their athletes four times during the marathon event and still get back to see them cross the finish line.
When athletes cross the finish line of most running races, they are treated to a banana and bagel. At APPLETREE, athletes enjoyed a high-end meal catered by the Eatery at the Grant House which included Pulled Pork Sandwiches, Kale Salad, Spicy Pork Rigatoni, Chocolate brownies and Apple cake. They enjoyed free Deschutes Brewery beer and Kombucha. "It was a meal fit for a king or queen," says McMillan. The Mayor of Vancouver even baked home-made Apple Pies for the Champions. There was a Health and Fitness Expo, a massage tent, live music and face-painting for the kids.
"We tried to provide a really great experience for athletes from start to finish. We wanted to host a great running event and also one that really supported the community" says McMillan. Police Activities League was their main beneficiary and police officers ran in full uniform to raise over $30,000 for programs that will benefit kids in the community. There were also numerous schools, clubs, teams and non-profits volunteering at the event to raise funds for their causes. McMillan reported, "We also offered Kids 17 and under to race the 5K for free. We strived to make this a family event and get the entire community out."
WHY Racing events and APPLETREE must be doing something right. They had 1504 athletes from 4 different countries including Canada, Mexico, United Kingdom and USA with 30 states represented. There are races that have been going on for years without those numbers. "We are excited to see where this event goes from here," says McMillan. "Based on the feedback we've been getting so far, we expect this event to grow and to become an annual tradition that our community looks forward to."
About Why Racing Events:
Why Racing Events is a multi-sport event management organization that offers athletes of all ages and abilities, from the elite level to the back-of-the-packers, the chance to successfully complete a racing event. They host a series of events every year from March to October, including children's races, fun runs, half marathons, marathons, duathlons and triathlons. They are committed to providing a positive experience to everyone involved while raising awareness and funds for important community causes. Find out more information about Why Racing Events at www.whyracingevents.com
###
Contact Information
Sherri McMillan
Founder and CEO
sherri@whyracingevents.com
www.whyracingevents.com
360.798.4744
###