imATHLETE + ROAD iD Partner to Save More Lives
February 5, 2019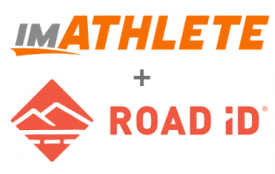 Los Angeles, CA (February 5, 2019) – imATHLETE, a registration and data company that is changing the relationship between events and their participants, is way beyond delighted to partner with ROAD iD to bring wearable IDs to athletes. With a simple button click on imATHLETE, event directors can offer ROAD iD products in their registration flow and, in doing so, encourage their participants to stay alive.
"Too many athletes don't understand the vital importance of displaying this critical information. I've been wearing my ROAD iD for years and insist my family does the same when they are exercising," confesses Jeff Matlow, CEO of imATHLETE who can be spotted with his Johnny Cash-like black ROAD iD band. "imATHLETE and ROAD iD are not only driven to support a healthy, happy active lifestyle but we both like to help save lives. The partnership is a no brainer."
Among the first to offer ROAD iD on the imATHLETE platform were the Christie Clinic Illinois Marathon and the Pike's Peek 10k, both of whom place high importance on promoting a message of safety.  The athlete response has been tremendous.
"We're hyper-passionate about athlete safety, saving lives, and fueling adventure," said Edward Wimmer, CEO of ROAD iD. "We're also committed to supporting the event community. Our partnership with imATHLETE is an awesome opportunity to support more events AND impact more lives—a win-win-win in our book."
"What he said," Matlow followed-up.
In addition to special pricing for participants, ROAD iD is providing some great incentives directly to event directors on the imATHLETE platform. These include Free ROAD iD Gift Cards that can be used as prizes and commission opportunities based on sales made during registration.
ROAD iD can be seamlessly integrated into any imATHLETE event registration to promote safety among participants.
About imATHLETE
imATHLETE blends registration, coaching and e-commerce technology with the social communities inherent in running, triathlon, cycling and all participatory sports. Recognized as a leading force in the sporting world with its industry-changing registration technology, imATHLETE is one of the fastest growing companies in the market. Their technology is transforming the relationship between event organizers and their participants. Learn more about imATHLETE at www.imATHLETE.com and at their blog at blog.imATHLETE.com/blog. Follow them on Facebook at IAmAthlete, on Twitter @IAmAthlete and on Instagram @imATHLETE.
About ROAD iD
ROAD iD makes wearable identification for people on the go. Their mission is to make wearing ID as common as a seatbelt, and since 1999, they've provided peace of mind to millions of active individuals, empowering them to do what they love and worry less with their info on-hand. Should the need arise, their ID products communicate who you are, who to contact, and the medical information necessary to ensure proper care is received. Countless stories and testimonials from customers over the years are a testament to the power of wearing ID, with many customers citing they might not be alive today had it not been for their ROAD iD. For more information, visit ROADiD.com.