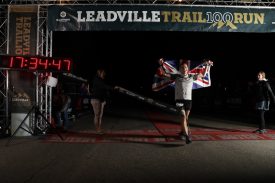 Sharman Wins Fourth Leadville Trail 100
LEADVILLE, Colo. (Aug. 20, 2017) — Aug. 19 and 20 marked the 35th annual Blueprint for Athletes Leadville Trail 100 Run, presented by New Balance. More than 600 runners from all 50 states and 35 countries came to Leadville, Colo., to compete in the iconic 'Race Across the Sky' and run 100 miles through the challenging Colorado Rockies terrain with elevations ranging from 9,200 to 12,600 feet, with a total elevation climb of more than 14,000 feet.
Ian Sharman of Bend, Ore. (Great Britain), won the race for the fourth time with previous wins in 2016, 2015 and 2013, finishing in 17:34:51. David Teirney of Denver, Colo. (United States), finished second in 18:32:34 and Michael Hewitt of Denver, Colo. (United States), finished third in 18:59:45.
In the women's division, Devon Yanko of San Anselmo, Calif. (United States), took the top honor finishing in 20:46:29. Simona Morbelli of Climax, Colo. (Italy), finished second in her first 100-mile race in 21:16:22 and Christy Burns of Evergreen, Colo. (United States), finished third in 21:43:15.
"Of all the times I raced Leadville, this race was definitely the hardest for me and winning this year means more to me than my other wins because I had to overcome more. Leadville is a classic race and it's great racing here. I'll definitely be back at some point to go for five wins," said Sharman.
"Racing Leadville has been on my bucket list for a long time. I had such a great support group. This was the first time my husband paced me and towards the end of the race, he reminded me that one of my best skills is finishing strong so I was really excited to finish as strong as I did. Racing today, I really felt that family and community that everyone talks about when racing Leadville and that's really important," said Yanko.
The Leadville Trail 100 Run also marked the fifth and final challenge for those who competed for the titles of Leadman and Leadwoman. To earn the title of Leadman or Leadwoman, each athlete must also complete the Leadville Trail Marathon, Leadville Silver Rush 50-Mile Mountain Bike or Silver Rush 50-Mile Trail Run, Leadville Trail 100 MTB and the Leadville Trail 10K Run. This year, Leadville's own Wesley Sandoval finished ninth overall in the Leadville Trail 100 Run in 19:57:12 and claimed a second Leadman title with a total time of 38:19:40.
"Congratulations to our winners and all of the participants who gave it their all on the course. When racers come to experience Leadville, we welcome you into our community and family with open arms," said Ken Chlouber, Founder of the Leadville Race Series. "The accomplishment of running 100 miles is an amazing feat, but it couldn't be achieved without the support of the crews and volunteers on the course who work tirelessly to see competitors to the finish line. By working together, we can all accomplish amazing results and encourage each other to lead a healthier way of life."
Photos & B-Roll
For race photos please visit here. Photo credit: Glen Delman Photography.
For b-roll footage please visit here.
For complete results visit www.LeadvilleRaceSeries.com. To learn more about Life Time Athletic Events visit EventsByLifetime.com.
About Leadville Race Series
Started with only 45 runners as the Leadville Trail 100® in 1983, the Leadville Race Series now consists of six running events, the Leadville Trail 100 mountain bike race, and six mountain biking events in the Leadville Qualifying Series. The Race Series stretches across three months, and hosts thousands of racers on foot and on mountain bike in some of the world's most iconic events. Endurance athletes worldwide now make the pilgrimage to Leadville, Colo., with the single goal of competing in "The Race Across the Sky." Visit www.leadvilleraceseries.com for more information.
About Life TimeSM, The Healthy Way of Life Company
Life Time is a privately held, comprehensive healthy living, healthy aging and healthy entertainment Lifestyle Company that offers a personalized and scientific approach to long-term health and wellness. Through its portfolio of distinctive resort-like destinations, athletic events and corporate health services, the Healthy Way of Life Company helps members achieve their goals everyday with the support of a team of dedicated professionals and an array of proprietary health assessments. As of August 20, 2017, the company operates 127 centers in 27 states and 35 major markets under the LIFE TIME FITNESS® and LIFE TIME ATHLETIC® brands in the United States and Canada. Additional information is available at www.lifetimefitness.com.
# # #