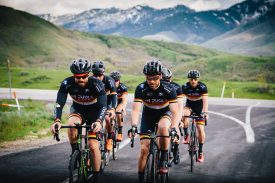 Salt Lake City's premiere cycling group
LOS ANGELES – July 6, 2019– Established in 1984, Mi Duole Cycling is one of the oldest road cycling clubs in the state of Utah. Nearly 150 active members gather weekly for intense team rides over Salt Lake's toughest terrain. Hyland's, a homeopathic medicine company dedicated to empowering athletes to achieve their goals on race day, and every day, is proud to support Mi Duole's members and their club events.
The team name "Mi Duole" translates from Italian to mean "I ache" or "I'm suffering." The name has molded the team's culture over the years, with members taking pride in epic training rides often comprising all of the major climbs around the Salt Lake Valley. Most team rides take place in one of four canyons: Emigration Canyon, Mill Creek Canyon, Big Cottonwood Canyon or Little Cottonwood Canyon.
"Everyone has their own special way of suffering and making the long days in the saddle bearable," said Mi Duole Cycling President Stuart Anderson. "That is why our partnership withs Hyland's has the foundation to be something special—with Hyland's products we can go harder for longer."
Hyland's has provided the club with samples of their signature products, including their popular Hyland's Leg Cramps products to aid in relief from cramps*, tight muscles and more. Products are distributed before each training ride but are especially popular before each long Saturday ride, as members prepare for upcoming races.
This year, the team will be participating in four major events or races: The Huntsman 140, Big Cottonwood Canyon Hill Climb Championship, Tour of Utah's Ultimate Challenge, and LoToJa, one of the nation's premier amateur cycling races. Hyland's products will be prominently used, displayed and distributed at each.
"Hyland's is thrilled to be partnering with one of the nation's most exciting and active cycling clubs," said Hyland's Senior Brand Manager Lisa Shapiro. "Our goal is to help athletes of all levels and disciplines test their limits and reach their goals—before setting even higher ones."
Hyland's Leg Cramps has been on the market for over two decades and is no stranger to the elite endurance market. Hyland's Leg Cramps is the official cramp relief sponsor of Swami's Cycling Club in San Diego and the exclusive cramp relief sponsor of the Boston Marathon, where it can be found in all 26 medical tents along the race course.
*Claims based on traditional homeopathic practice, not accepted medical evidence. Not FDA evaluated.