Hoist Partners with Savage Race to Hydrate Its Elite Athletes and Attendees
February 3, 2022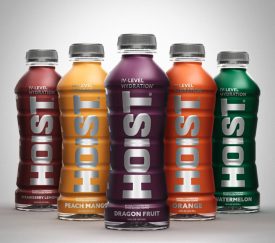 Category Challenging Hydration Company Will Kick off Its Partnership with Rapidly Growing Obstacle Race Brand at the Florida Spring Race on March 5
Cincinnati, Ohio, Feb. 3, 2022 /ENDURANCE SPORTSWIRE/ – HOIST™, a fast-emerging hydration beverage company has partnered with the extreme obstacle course competition, Savage Race™.  As it continues to rapidly expand across the United States through its innovation and customer demand, HOIST's partnership with Savage Race puts the company alongside a rising star in the obstacle race industry and will open Savage Race's community to the preferred hydration for athletes looking to test their physical limits.
2022 will be a benchmark year for HOIST with a slate of new, high profile retail partners that will expand the brand into several new markets.  "As we work aggressively to meet the consumer demand for HOIST, we've been looking for like-minded communities to align with that will put better hydration products in the hands of those who are truly living exhausted, said Rachel Trotta, Director of Partnerships with HOIST.  We couldn't be more excited to be partnering with Savage Race to do just that."
Having put more than 500,000 participants through hundreds of events throughout the country since its inception, Savage Race allows communities to connect over smashing like-minded goals, defeating heart-pumping obstacles, and creating memories of a lifetime.  "We are super excited to partner with Hoist and bring a whole new level of hydration to our participants," said Lloyd Parker Co-Founder Savage Race.  Now, all of Savage Race's attendees and participants will be best positioned to push themselves with less fear of the affects related to dehydration.
HOIST's "Live Exhausted" motto is highlighted by a community organically built and widely made up of members who are challenging themselves in everything they do – personally and professionally.  "Our mission is to champion the everyday athlete – from our first responders and military communities to anyone striving to test their physical capabilities by competing in a Savage Race event," added Trotta.
To find more information on HOIST and where to buy, please visit www.drinkhoist.com or @drinkhoist on Instagram.  For additional details on Savage Race, please visit www.savagerace.com or @savagerace on Instagram.
About HOIST
Founded in 2009, HOIST provides IV-level hydration in the form of a bottle alongside a military-grade powdered product for those looking add an elevated hydration to their liquid.  Born and built in the Midwest, HOIST's Cincinnati-based team has built a product that's not only a preferred hydration for the US Military, it's also the trusted hydration among many who push their physical and mental boundaries.  For more information please visit www.drinkhoist.com.
About Savage Race
Savage Race is more than just a race it's a full-day event with a fun festival-type atmosphere that includes food vendors, beer, and music. Savage Race offers two different course distances. The Savage Race course is approximately 6 miles with 27+ obstacles and the Savage Blitz course is 3 miles with 15-20 obstacles. All participants receive a medal and finisher upon completion of the course. There are cash awards for the top 3 overall male and female racers for the SavagePro heats. There are award medals for the various age groups in the SavagePro heats. Kids are encouraged to run wild on the SavageJr course. Friends and family are invited to attend and cheer their racers on. Participants and spectators can register for Savage Race at www.savagerace.com. Savage Race has 15 events scheduled throughout the 2022 calendar year.
For Media Inquiries:
HOIST: rachel@drinkhoist.com
Savage Race: Lloyd@savagerace.com
###