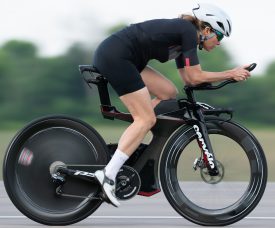 For almost 20 years, LATC has been a recognized national leader with a loyal community of supportive and committed athlete members, coaches, volunteers, and sponsors. Their goal is to create extraordinary memories and lifelong friendships through competition, education, volunteering, and awesome social activities! LATC has never had an official wheel sponsor until now. As a woman-owned company that designs and manufacturers some of the fastest wheels in the world, it seems like a natural fit for HED.
"I've always been interested in being a part of the LA TriClub. I'm excited that HED is teaming with a sports property as dynamic, driven, and intense as LATC. They embody the same attributes that we do." – Anne Hed, CEO
HED is celebrating its 35th year and the company has never been as vibrant and determined to be the leading triathlon wheel in the industry. HED set records in 2015 when Rohan Dennis won stage one's individual time trial, clocking an average speed of 55.446 km/h (34.5 mph) and became the first yellow jersey wearer of the Tour. With this performance, he established a new record average speed for an individual time trial at the Tour de France.
Since then, triathletes worldwide have chosen HED to be their triathlon wheel including Lionel Sanders, Florian Angert, David Plese, Michael Weiss, Ellie Salthouse and Sika Henry just to name a few. And to have these superstar athletes on HED wheels made the LATC even more excited to align with HED.
"We are very excited to have the great team at HED Cycling joining the LA Tri Club Family. To have the makers of the world's most aerodynamic wheels on board is a great benefit to our athletes. We look forward to many years of racing and riding on HED Wheels." – Deb Carabet, Managing Director, Strategic Partnerships & Director Women's Training Programs
For more information about HED or the LATC contact :
Tim Shea at TimS@HedCycling.com or Deb Carabet at Deb@latriclub.com