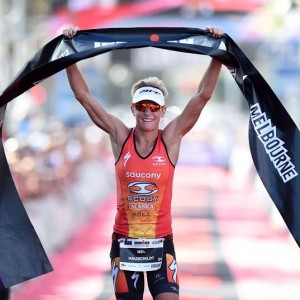 MELBOURNE, Australia (March 22, 2015) – A dramatic stop to tend to painful blisters could not prevent a big victory for Queensland's Melissa Hauschildt in the IRONMAN® Asia-Pacific Championship in Melbourne. The former Australian steeplechase champion turned triathlete has transformed from a two-time  IRONMAN® 70.3® World Champion to claim one of the biggest titles on the globe, and with it secure a place in October's IRONMAN World Championship in Kailua-Kona, Hawai'i. Joining her was Canadian Jeff Symonds who came from behind as the leaders faltered on a hot day in Melbourne to claim his first IRONMAN victory.
Women's Race
Australian Annabel Luxford led out of the water in 51:20 with a 1:22 lead over defending champion Caroline Steffen (SUI) and Australian Bree Wee. Steffen, a noted cyclist, rounded up Luxford and the pair pushed clear on the bike while Hauschildt, who enjoyed one of her best swims, powered up to third. She was 3:17 behind at the 90 km mark and 4:13 back on to the run.
Hauschildt caught Steffen by the midway mark of the 42.2 km marathon run but her 3:30 advantage all-but disappeared when she faltered and then stopped to tend to blisters. The Queenslander recovered and went on to win in 8:52.50.
Steffen slowed over the closing kilometers and within sight of the finish line, she stumbled and almost fell, allowing fast-finishing Dutch athlete Yvonne van Vlerken to grab second, to repeat of her effort of two years ago.
Sweden's Asa Lundstrom was solid in fourth, American Beth Gerdes, partner of Australian triathlete Luke McKenzie, ran well for fifth while Luxford earned praise for sixth in her IRONMAN debut. Last year's IRONMAN World Champion, Mirinda Carfrae recorded a time of 9:08:38 placing her seventh.
The win was Hauschildt's second in two outings and the two-time IRONMAN 70.3 World Champion now earns an automatic start in the IRONMAN World Championship in Hawaii.
"That was one tough race. I got blisters on my feet and by 30kms I was walking and begging for medical. I got some medical help and rubbed on Vaseline that didn't help at all," she joked. "I am just stoked. I was ready to pull out at 30kms with so much pain. But I knew I had to keep going. It feels like everyone knows you here. It's such an awesome feeling, it feels like they are all your family. The support was great."
Hauschildt becomes the first Australian to win the race in its four-year history.
Top 10 professional women's results:
                                                                  SWIM              BIKE                RUN              FINISH
Melissa Hauschildt        AUS          00:54:44          04:48:01            03:06:32         08:52:51
Yvonne van Vlerken     NED          00:59:52          04:44:28            03:10:54         08:58:58
Caroline Steffen            SUI           00:52:43          04:45:38            03:16:40         08:59:08
Asa Lundstrom              SWE         01:00:20          04:48:10            03:10:37         09:02:49
Beth Gerdes                  USA          01:00:22          04:55:13            03:05:56         09:05:08
Annabel Luxford           AUS          00:51:21          04:47:12            03:26:07         09:08:35
Mirinda Carfrae            AUS          00:54:44          05:00:58            03:08:39         09:08:39
Ashley Clifford              USA          00:54:48          05:04:59            03:15:21         09:19:00
Emma Pooley               GBR          01:08:45          04:44:33            03:21:47         09:20:29
Bree Wee                      USA          00:52:43          05:00:06            03:24:43         09:21:56
Men's Race
Last year's IRONMAN New Zealand winner Marko Albert (Estonia) led former Olympic rower Todd Skipworth and top seed Nils Frommhold (GER) out of the 3.8 km swim in a record 45:18 in idyllic conditions in Frankston.
Frommhold and veteran Luke Bell, who lives on the course in Melbourne, dominated the 180 km bike to open up a seemingly insurmountable 11-minute advantage. Bell was first to drop, but Frommhold looked invincible as Australian's Tim Berkel and debutant Brad Kahlefeldt were joined by Canada's Jeff Symonds in the chase.
The German faded badly by 30 km on the super-hot, point-to-point, run from Frankston to St Kilda. Symonds and Berkel forced their way to the front and then the Canadian, an unlikely looking runner, showed his strength to break the young Australian, going on to win in 8:04.28.
Berkel was second, 3:27 behind, with Kahlefeldt impressive in third in his debut.
It was the first win for Symonds, who was full of praise for his training friends in the Victorian country triathlon stronghold of Bendigo where he prepared.
"Congratulations to Tim Berkel who is a legend and pushed me to the limit which is why I am wrecked," Symonds said. "For all the youngsters watching, I grew up in an IRONMAN town and I watched and dreamed. So I challenge all youngsters watching here to dream big. Anyone can do this. You just need to go hard."
Berkel was exhausted on a tough day.
"I was spent. I have never hurt so much. I just slugged it out and slugged it out," Berkel said. "I am very happy really. I have ticked the Kona box and can plan for Hawaii now. The pressure is off there and I can really focus on that. There was a few times I could have pulled out but I just slugged it out and I am proud of that."
Top 10 professional men's results:
                                                                SWIM              BIKE                RUN              FINISH
Jeff Symonds               CAN          00:49:40          04:27:30            02:44:14         08:04:29
Tim Van Berkel              AUS        00:48:06          04:27:17            02:49:20         08:07:57
Brad Kahlefeldt             AUS          00:45:29          04:31:00            02:49:15         08:09:21
Christian Kramer          GER          00:46:47          04:29:25            02:51:27         08:11:31
Nils Frommhold             GER          00:45:28          04:19:08            03:04:48         08:12:58
Callum Millward             NZL           00:46:57          04:29:04            02:54:12         08:14:16
Jan Van Berkel              SUI           00:46:53          04:29:07            03:01:53         08:21:41
Marko Albert                 EST          00:45:19          04:31:04            03:02:10         08:21:49
Per Bittner                     GER        00:49:41          04:27:31            03:04:42         08:25:17
Jens Petersen-Bach    DEN           00:49:47          04:33:42            02:59:40         08:26:41
For full results from the 2015 IRONMAN Asia-Pacific Championship, visit www.ironman.com/triathlon/events/asiapac/ironman/melbourne/results.aspx.
For more information on the IRONMAN brand and global event series, visit www.ironman.com. Media may contact press@ironman.com.
About IRONMAN
The iconic IRONMAN® Series of events is the largest participation sports platform in the world. Since the inception of the IRONMAN® brand in 1978, athletes have proven that ANYTHING IS POSSIBLE® by crossing finish lines at the world's most challenging endurance races. Recognized for excellence through distinguished events, world-class athletes and quality products, IRONMAN has grown from a single race to a global sensation with more than 190 events across five unique brands: IRONMAN®, IRONMAN 70.3®, 5150™ Triathlon Series, Iron Girl® and IRONKIDS®. For more information, visit www.ironman.com.
###
IRONMAN®
2701 North Rocky Point Dr | Suite 1250
Tampa, FL 33607
(P) 813.868.5940 | (F) 813.868.5930
www.ironman.com