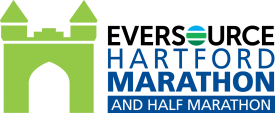 Annual contest asks community what motivates them toward Eversource Hartford Marathon and Half Marathon
Glastonbury, CT – The Hartford Marathon Foundation (HMF) invites members of the community to share their motivation behind participating in the 2019 Eversource Hartford Marathon and Half Marathon on October 12.  Following the 2019 event theme "I Can, I Will", HMF will collect stories from inspiring individuals about what keeps them running day-in and day-out, through hard times, rough weather and overcoming personal struggle. Submissions will be accepted through June 30.
"We are so inspired witnessing the dedication it takes to get to the finish line each year," said Beth Shluger, CEO of the Hartford Marathon Foundation and Race Director of the Eversource Hartford Marathon and Half Marathon. "We want to hear more – we want to know what motivates this incredible community. And, we want to celebrate them for it."
HMF will select a group of applicants with particularly moving stories to be part of the Aiello Inspiration Team at this year's Eversource Hartford Marathon and Half Marathon. Members of the Team will receive special VIP treatment including custom event apparel and complimentary PRE Perks package with limited access parking adjacent to the start/finish line, Mail My Packet service to receive bib and shirt in late September, personalized bib, access to pre-race VIP area and personal baggage check. Additionally, they will be profiled within the Eversource Hartford Marathon Insider's Guide and highlighted within team promotions at the marathon expo on October 10 and 11.
Participants may submit their stories or nominate another inspiring runner by June 30 through the following survey: https://www.surveymonkey.com/r/Y3MS9FJ
The Hartford Marathon Foundation is joined by Aiello Home Services, sponsor of the team, in the effort to recognize individuals whose determination and perseverance serve as an inspiration and motivation for others in the community.
About the Hartford Marathon Foundation
The Hartford Marathon Foundation, Inc. is a nonprofit organization founded in 1994 to create and manage fitness events that inspire people to be healthy and fit.  Located in Glastonbury, Connecticut, the Hartford Marathon Foundation organizes more than 30 annual athletic races, including the Eversource Hartford Marathon and Half Marathon, and training programs for youth runners. For more information, visit http://www.HartfordMarathon.com and on Facebook at HMF Events, Twitter at @RunHMF and Instagram at HMF_Events.
About Aiello Home Services
As a locally owner and operated, fourth generation family business, Aiello Home Services is proud to serve as one of Connecticut's largest Plumbing, Heating, Air Conditioning, and Electrical companies. They are an Eversource-authorized home energy analysis provider, further expanding the services Aiello offers. The families they serve trust in their background-checked, highly trained, licensed team of professionals to maintain the comfort of their homes. With opportunities such as the Eversource Hartford Marathon, they find pride in giving back to their community. To learn more about Aiello Home Services please visit https://www.AielloHomeServices.com.