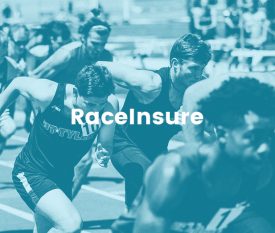 (Worcester, MA) – RaceInsure, a race cancellation insurance product owned by Strategic Risk Transfers (SRT), successfully insured the cancellation of the 2018 Run Holden Beach. The race owners, Coastal Race Productions (CRP), were forced to cancel their half marathon five days prior to Hurricane Florence's arrival on their section of the North Carolina coast – which took a direct hit by the storm.
"We were looking for race insurance for our events and RaceInsure came highly recommended. Our specific worry here at the coast was the threat of a hurricane. With 1,800 runners registered for Run Holden Beach, sure enough, Hurricane Florence affected our area in a big way and forced us to cancel our event. With the help of RaceInsure, we were able to offer some great solutions to our runners that kept them happy and mitigated our loss. SRT and RaceInsure were quick to respond and flexible to work with throughout the process. Without this insurance, we would've had a massive loss on our hands and there's no way we would've been able to maintain our great reputation with our loyal runners. This is a must for any race director to consider adding to their events," said David Hutnik, co-owner of CRP. 
As fellow stewards of the endurance community, SRT is always ready to listen to the insurance-related concerns of event directors and sports associations – in an effort to continually evolve the SRT product suite, as well the insurance industry at-large, to better meet the needs of the endurance community. 
RunSignUp (RSU) was the catalyst behind the development of the RaceInsure program. "Race Directors concerned with the possibility of cancellation and the associated losses and bad will that comes with canceling a race should take a look at this program. RaceInsure provides our race director customers with an easy to understand and economical solution for weather related race cancellation and other covered risks." said Bryan Jenkins, sales leader at RSU. "When our race director customers purchase RaceInsure, they are going above and beyond to protect their runners."
RaceInsure is currently available to all races that utilize RSU as their online registration platform. 
About Strategic Risk Transfers:
Strategic Risk Transfers (SRT) is an insurance agency that utilizes industry experience, coupled with trends in policy language and risk control, to author tailor-made solutions for their client industries. 
RaceInsure is one of the unique insurance solutions that SRT has developed for the endurance event community. 
More info on SRT can be found at www.srtins.com
Email: scott@srtins.com 
About Coastal Race Productions:
Coastal Race Productions manages races on the Carolina Coast including the Wilmington Historic Half Marathon & 5K as well as all of the BAM Race Series: Run Holden Beach, Run Oak Island, Run Sunset Beach and Run Ocean Isle Beach. CRP aims to be the most runner friendly and provide the best runner experience through their marathon, half marathon & 5K road races.
About RunSignUp: 
RunSignUp is the leading innovator of online tools for Races and Running Clubs. Services include RunSignUp for race registration, RunSignUp Go for Race Day, RunSignUp RD Go for Timers, RunSignUp Clubs to enable membership management, and RaceJoy for mobile race experiences. More than 4,000 race directors, timers, and running club officers use these services today, including leading organizations like the Boilermaker Road Race, Pittsburgh Three Rivers Marathon, Inc., Fifth Third River Bank Run, The Graffiti Run, The Glo Run, Leone Timing, and many more. Services are free except for processing fees when conducting monetary transactions such as race registration or club membership renewals. RunSignUp is founded by runners for runners, using technical capabilities to bring the power of cloud computing to benefit the running community. For more information, visit www.runsignup.com.