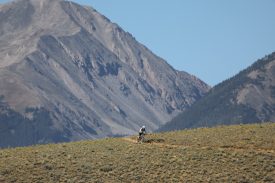 Riders Take Home Coveted Champion Leadville 100 Mountain Bike Belt Buckles
LEADVILLE, Colo. – Yesterday more than 1,500 riders from all 50 states and 35 countries participated in the 25th Annual CenturyLink Leadville Trail 100 Mountain Bike (MTB) Race. In the iconic event, participants rode more than 100 miles of challenging Colorado Rockies terrain at elevations ranging from 10,152 to 12,424 feet. More than 1100 athletes finished within the 12-hour cut-off time including seven tandem teams.
Following the 6:30 a.m. MST start, Howard Grotts and Larissa Connors emerged again as the 2018 champions. Both also won in 2017. In the male division, Grotts won for the second year in a row and crossed the finish line in 6:18:08, followed in second place by Kristian Hynek who finished in 6:21:12. Payson McElveen also finished third for the second year in a row in 6:27:17. In the female division, Connors finished in 7:40:13 followed by Julie Dibens in second place in 8:07:54 and Chase Edwards in 8:09:48. Both John Callahan and Todd Murray from Colorado notched a 25th finish and are the only two competitors to compete in every Leadville 100 MTB since it's inception
Leadville's own Ty Hall competed as the "Dream Chaser" to help raise money for the Leadville Legacy Foundation. As the Dream Chaser, Hall started at the back of the race and passed fellow MTBers to raise awareness and funds to support the needs of the Leadville community. This year, Hall passed 1424 riders during the race and raised $22,448 for the Leadville Legacy Foundation. Additionally Life Time Founder, Chairman and CEO Bahram Akradi finished in 10:22:18. Ninety-seven minutes under the 12-hour cut-off. As part of his campaign "Every Minute Counts" Bahram and his friends will donate more than $682,000 to the Life Time Foundation.
The inaugural Leadville 100 Mountain Bike event launched in 1994 with 113 finishers and now in its 25th year, endurance athletes worldwide make the pilgrimage to Leadville, Colo., with the single goal of competing in 'The Race Across the Sky'.
"Congratulations to Howard and Larissa on their amazing wins today and to all competitors who cross the finish line," said Ken Chlouber, Founder of the Leadville Race Series. " As we celebrate 25 years of the Leadville 100 MTB event it's amazing to see the spirit of Leadville instilled in all participants, pushing themselves to embody a healthy way of life."
The 2018 CenturyLink Leadville Race Series concludes Saturday, Aug. 18, with nearly 700 participants running the CenturyLink Leadville Trail 100 Run presented La Sportiva. The legendary "Race Across the Sky" 100-Mile Trail Run began in 1983 and still draws thousands of participants to Leadville each year for a demanding 100-mile out-and-back run course with total elevation range, or climb, of more than 18,000 feet.
For photos from the race visit here. Photo credit: Glen Delman Photography.
For complete results visit www.athlinks.com. To learn more about Life Time Athletic Events, visit www.EventsByLifeTime.com.
About the Leadville Race Series
Started with only 45 runners as the Leadville Trail 100 in 1983, the Leadville Race Series now consists of seven running events and four mountain biking events, plus six events in the Leadville Qualifying Series. The Race Series stretches across three months, and hosts thousands of racers on foot and on mountain bike in some of the world's most iconic events. Endurance athletes worldwide now make the pilgrimage to Leadville, Colo., with the single goal of competing in "The Race Across the Sky." Visit www.leadvilleraceseries.com for more information.
About Life Time®, Healthy Way of Life
Life Time champions a healthy and happy life for its members across 135 destinations in 38 major markets in the U.S. and Canada. As the nation's only Healthy Way of Life brand, Life Time delivers an unmatched athletic resort e3xperience and provides a comprehensive healthy living, healthy aging and healthy entertainment experience that goes well beyond fitness to encompasses the entire spectrum of daily life for individuals, couples and families of all ages. For more information visit www.lifetime.life.
# # #