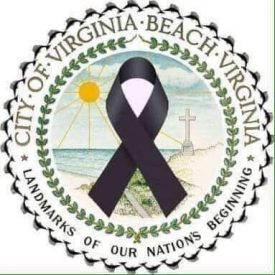 Virginia Beach Running Community Comes Together
June 3, 2019 – VIRGINIA BEACH – On behalf of all localrun clubs, J&A Racing invites the Hampton Roads community to come together to honor the victims affected by the senseless tragedy that took place in our community last week.
"In moments of sadness, it is our community that lifts us up. This event is about more than running together. It is about honoring those who left us too soon," said Jerry Frostick, J&A Racing. "Coming together as one to lift each other up is what our community does best."
In the running community, Wednesday, June 5this recognized as Global Running Day – a worldwide celebration of running designed to inspire everyone to be active. In light of the tragedy in Virginia Beach, this year's event will be dedicated to the memory of the twelve victims and their families. Local run clubs, community members, and first responders will join together as Virginia Beach Strong.
The community event will start at 6:15 p.m. at Murphy's Irish Pub with a moment of silence to honor the victims followed by a run/walk on the Virginia Beach Boardwalk. Following the run, participants are encouraged to gather at Murphy's Irish Pub. Raffle packages and merchandise will be available to support the United Way South Hampton Roads' Virginia Beach Tragedy Fund. This event is free and open to the public.
For more information about this event, visit our Facebook event:  https://www.facebook.com/events/339804866889753/
About the Virginia Beach Tragedy Fund
Virginia Beach has asked United Way to be their partner on creating a fund for the victims. 100% of the funds raised will go to the victims affected by this senseless tragedy in our community. Please note, donations given to victim assistance funds are generally considered personal gifts and are not guaranteed to be tax deductible, so you will not be receiving a tax donation receipt.
About J&A Racing
J&A Racing is a nationally recognized race management company based in Virginia Beach, Virginia. With a portfolio of seven events and two training programs, J&A Racing's mission is to promote and support healthy lifestyles and the sport of running through all stages of life. Since 2003 when J&A Racing Owners Amy and Jerry Frostick took over the Shamrock Sportsfest, the Yuengling Shamrock Marathon Weekend has become one of the most popular running events in the country, growing from 3,000 participants to a record 30,000 in 2015. Additionally, J&A organizes the Anthem Wicked 10K, Old Point National Bank Monster Mile; the MSP Design Group Big Blue 5K; the Surf-N-Santa 5 Miler; the Neighborhood Harvest Crawlin' Crab Half Marathon & 5K; the Chartway Norfolk Harbor Half Marathon and We Promise Foundation 5K; and the ADP Corporate 5K. For more information on J&A Racing's events, visit jandaracing.com.
###