Giro Launches Method
January 29, 2019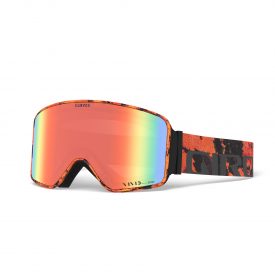 New Goggles Offer Retro Style and Advanced Performance at an Affordable Price
(January 29, 2019 – Park City, Utah) Giro Sport Design, the leader in high-performance snow helmets and goggles, today announced the launch of the new Method™ goggle. It features a wide field of view, crisp visibility and a premium VIVID lens with Optics by ZEISS®. Method™ goggles at $130 / £135 / €150 and will be available starting Fall 2019 from authorized Giro retailers and www.giro.com.
"The new Method goggles are driven by a desire to serve the needs of our athletes and core users—particularly those riding park and pipe," says Giro Brand Manager, Travis Tomczak. "We set out to create a goggle that blends peak on-hill performance with immense personality. We've hit the mark with Method, loading it with our best technology and offering it at an affordable price."
While the new Giro Method™ goggle takes a page from the past, with bold retro styling and design elements inspired by timeless sunglass silhouettes, its advanced technology make it definitively modern. Giro's product developers designed Method™ to sit as close to the face as possible, expanding the rider's field of view and making it easier to spot and stick landings.
EVAK Vent Technology prevents fogging during high intensity efforts and a triple layer face foam with microfleece facing provides all day comfort. Also noteworthy is the totally new vent design that not only creates a unique textured aesthetic, but also offers durability and structure.
The goggles come with two, injection-molded cylindrical VIVID lenses with Optics by ZEISS® that can be quickly changed using the Slash Seal lens interchange system. Additionally, Method™ goggles are Adapt Strap-compatible, so riders can personalize their goggle more than ever before. 
Giro also partnered with legendary skate and snowboarder, John Cardiel, to design a signature Giro Method™ goggle, which will be offered as a part of the full line release in Fall 2019. In speaking about the collaboration, Cardiel remarked, "I just wanted them to have an aggressive look. When you are doing something aggressively and you want to attack a certain obstacle, you want to be able to portray that same energy on your cargo." 
Styles:
Offered in 11 different frame/strap designs, with up to 14 standard lens configurations.
Technical Features:
EXV – Expansion View Technology

This is a new frame design from Giro that optimizes a massive spherical lens to provide maximum peripheral vision and an unparalleled field of view.

EVAK Vent Technology

This ultra-durable, non-absorbent foam material minimizes fogging by releasing moisture while simultaneously creating a barrier from the elements. Exclusive on all Giro goggles.

Triple layer face foam with microfleece facing
Anti-fog coating
Seamless Compatibility with all Giro helmets
OTG friendly
Adapt Strap compatible 
Lens Features:
Injection-molded cylindrical VIVID lenses with Optics by ZEISS®

This technology helps refine optics and minimize distortion that can occur in thermal-formed cylindrical lenses. Protected by durable, scratch-resistant coating.

Slash Seal – Lens Interchange System

An easy and intuitive interface for swapping out lenses on-the-go.

Includes two VIVID ZEISS® lenses 
High Resolution Imagery: http://bit.ly/GiroMethod 
Media Contact:
Garin Fons | TRUE Communications | garin@truecommunications.com | 952-239-1422 
Giro Sport Design: Founded in Santa Cruz, California in 1985, Giro Sport Design develops new ideas to enhance the ride. Since creating the first lightweight, high-performance helmets for cycling and snowsports, we have maintained a strong focus on products that enhance the feeling of freedom and independence that riding brings to life. As the leader in the design, fit and engineering of products that complement the body, Giro is the first choice of riders worldwide. Learn more at Giro.com/TheGiroStory