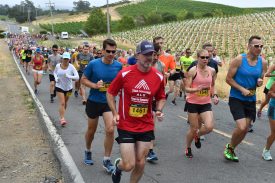 Two Local Runners Inducted into Napa-to-Sonoma Hall of Fame; Crohns and Colitis Foundation Reaches Impressive Fundraising Goal
Sonoma, Calif.  – Nearly 4,000 runners from 48 states and fifteen countries ran through picturesque wine country in the 15th Annual Napa to Sonoma Wine Country Half Marathon. Sean Gildea (1:10:03) and Liza Reichert (1:21:43) claimed the titles as runners enjoyed the experience of running past the rolling hillsides of vineyards in the Los Carneros wine appellation before celebrating at the post-race Wine & Music Festival in Sonoma Plaza.
Napa to Sonoma is a popular destination race. Two thirds of the athletes were from out of state and participated as part of their "runcation", or weekend escape to the wine country, which translated into healthy tourism revenues that were especially needed after being hit by the wildfires last October. For many, it was their first opportunity to witness firsthand the impact of the fires and for the local communities it was another mile marker passed on the road to recovery.
Sonoma resident, Gretchen Schoenstein was evacuated from her home for eight days because of the wildfires that ravaged the region. It was an emotionally charged time for her and many others. "I found out that this race would send proceeds to the fire relief efforts so it felt like a way to start the healing process, so I signed up" she said. "It's incredible to see the community come out to support the event. While running, I could see the burn scars on the mountains. And it seemed such an important step to run this race to move the community forward in recovery and healing.
Today's winner, Sean Gildea, was one of the athletes who made the journey for a weekend in the wine country. "A destination race is always fun," he said. "My wife and I were so excited to come up here to celebrate her birthday and our anniversary, which is coming up soon."
Additionally, seventy percent of the athletes in today's event were women, many of whom met here to celebrate birthdays, anniversaries, and other milestones.
Jennifer Small, from Charleston, South Carolina, and Dana Dolbow, from Deland, Florida came to the race as an annual girls' trip. "Napa and Sonoma have been bucket list items for us from a while," said Small. "Dana has never run a half marathon, so we thought, why not combine two items on our bucket list? Now we've accomplished her dream of running a half and we get to drink some amazing wine."
The day also had the wonderful kismet of a wedding proposal at the finish line. Mauricio Castillon asked his girlfriend Lauren Leland to marry him. Both are from Dallas, Texas.
"We met four years ago running in a local running group in Dallas, Texas and then we just continued to grow in our relationship and grow in our running," said Leland. "It was only fit that at the finish line today, Mauricio asked me to marry him and spend the rest of our lives together. I was overwhelmed with excitement and I'm so happy he asked. I'm 100 percent yes!"
The event festivities kicked off on Friday with a welcome reception at Cuvaison Estate Winery's tasting room and patio overlooking the vine-filled start line. Saturday at the Health and Fitness expo, Oxbo Commons in Napa, Feast it Forward welcomed athletes with wine tasting, live bands and food trucks as they checked in for the race weekend. Culinary Institute of America of COPIA hosted the athlete dinner while world famous ultra-runner, author and wine proprietor, Dean Karnazes spoke to the athletes about his experiences and new Greek inspired wine – appropriately named "Marathon".
Karnazes has run a marathon in every state and is currently on the quest of running a marathon in every country. Today, however, he was all about family. He ran with his daughter, Alexandria, 23, who was attempting her first half-marathon. "It's always best to run in your own backyard," said Karnazes. "I love wine country, and this is my daughter's first race, so it's a great opportunity to be together."
At 7:00am on Sunday, the 13.1-mile race took off from Cuvaison Estate Winery. Runners finished in the historic Sonoma Plaza in front of City Hall to be greeted with a post-race Wine and Music Festival with 40 of Napa and Sonoma's finest wineries pouring.  The plaza was also filled with exhibitor booths, food trucks, the Lagunitas beer garden, and new Rejuvenation Lounge where the athletes were able to relax, rehydrate and recover before celebrating their accomplishment of completing the 15th running of the Napa to Sonoma Wine County Half Marathon.
LOCAL RESIDENTS ARE FIRST INDUCTEES INTO THE HALL OF FAME
While the runners were enjoying the festive post-race Wine & Music Festival and awards ceremony, it was extra special for two local runners. Destination Races has inducted its first two members into the Hall of Fame. John Litzenberg, 48 and Janet Cain, 67, both residents of Sonoma Valley, have prolific and storied running careers and have been great supporters of the Napa-to-Sonoma Half Marathon.
Litzenberg has been running long distance since the age of nine. Since then, he has competed in hundreds of races. "I am extremely honored and excited to be among the first members inducted into the Napa to Sonoma Wine Country Half Marathon.  The race garners entrants from all over the U.S., as well as from other countries, every year, and it's pretty special that Destination Races wants to acknowledge runners who live in the Sonoma area."
Janet Cain began her marathon career in 1980 when women's running was still in its infancy. In 1984, Cain was sponsored by Avon, who was instrumental in getting the women's marathon event in the Olympics.  In 1985, Cain won the Rome Marathon in 2:58:11. Since then, she has run more than 65 marathons, including 16 at the Boston Marathon. Janet has also competed in 13 of the 15 Napa-to-Sonoma Half Marathons.
"This race is special to me," said Cain. "With its small-town charm, world-class course, and epic finish at the historic Sonoma Plaza, the Napa to Sonoma Half brings together runners from all over the world. I'm completely honored and would have never expected this when the journey began in 2003 – I hope to be running for another 15 years."
Race Director Matt Dockstader said, "Both John and Janet were selected because they have been to the podium here more times than any other runners.  They are accomplished runners in their own right, they are both assets to the Napa and Sonoma communities, and have been dedicated, vocal supporters of this iconic race."
Both Litzenberg and Cain were awarded engraved decanters, embroidered jackets and magnums of Patz & Hall Pinot Noir.
NATIONAL FUNDRAISING PARTNER TEAM CHALLENGE RAISES OVER $25 MILLION
Team Challenge, the endurance training and fundraising program for the Crohn's & Colitis Foundation of America, brought 235 runners from around the country to the event and just reached its goal of raising $25 million since its partnership began in 2008.
"Today we raised 1.2 million dollars," said Craig Comins, VP of the Team Challenge program. "That put us over the $25 million goal for our 11 years here.  This was our last race as the official National Charity Partner at Napa to Sonoma and we have thoroughly enjoyed every year here, as it exceeded all our expectations."
The Napa to Sonoma Wine Country Half Marathon also benefits a number of locally based schools, charities and other non-profit organizations, including Hanna Boys Center, Finnish American Housing Association, Napa Valley Vine Trail Coalition, Rebuild North Bay, Sonoma Volunteer Fire Department, Sonoma Unified Schools and others.
The Men's Race
Sean Gildea, 26 of Dana Point, covered the iconic course in 1:10:03 running solo for most of the race. He was followed by Kevin Pool from Napa who finished in 1:12:02.
"What a great race," said Gildea. "I was out there alone most of the race but then a pretty decent headwind kicked up. "The other competitors were strong and I could feel them coming on, so I was just trying to hold on."
This was Gildea's first attempt at the Napa-to-Sonoma Wine Country Half. He came to celebrate his wife's birthday and praised the beautiful course and well-organized event. Kevin Pool, who finished second, resides in Napa and had intimate knowledge of the course as the former Operations Manager for Destination Races.
"Sean pulled away early and I spent the rest of the race chasing him. The headwind was tough and you feel it more when you're by yourself. But we really lucked out with cool weather and its such a beautiful course that keeps you engaged."
Women's Race
Liza Reichert, 30 from Los Altos Hills won the women's division with a time of 1:21:43. She led wire to wire, a remarkable feat given that she had a baby just six months before.
"This is my first time racing since the baby," she said. "I just wanted to come back and see how this distance felt." Like Gildea, she ran most of the race alone and was followed by Amy Crain of Oakland who finished second and won the Master's Division with a time of 1:24:03.
Reichert is no stranger to the Destination Races Wine Country series. She won the Santa Barbara Wine Country Half Marathon, and in 2015, she was second in the Healdsburg Wine Country Half Marathon. Amy Crain, who finished second for the women was proud to do her first race as a Master's runner (40 and over) at the Napa-to-Sonoma Wine Country Half Marathon.
"I saw Liza out there for the first five miles and then she took off. She's pretty incredible", said Crain." Crain also wanted to share her message that turning 40 only means you can get better with age, much like the wines of the region.
Race Results here:  https://www.motivrunning.com/napa-to-sonoma-wine-country-halfmarathon/race/results/
THANK YOU TO OUR SPONSORS
HomeAway, ROKA, CLIF Bar, Nuun Hydration, Dagoba, Lagunitas Brewing, Fortessa, Rabobank, Vivify, BrewDr Kombucha, Vera Roasting Company, REBBL, Wine Country Media, Feast it Forward, Athletic Feat and Core Hydration.
UP NEXT…
Up next on the schedule for Destination Races is the Oregon Wine Country Half Marathon on September 2, 2018.  This popular race is presented by Ken Wright Cellars and located in the heart of Willamette Valley. Participants rave about the small-town charm, incredible sunrise views, scenic course, great wines, and post-race Wine & Music Festival. Then on October 27, it's back to Northern California's wine country for the Healdsburg Wine Country Half Marathon.
About Destination Races
Destination Races, based in Sonoma, California, is the pioneer producer of the Wine Country Half Marathon Series. Founded in 2004, the Wine Country Half Marathon Series consists of wine-themed races across prestigious wine regions in North America, offering unforgettable experiences on and off the course, including the popular post-race wine and music festival. Runners from all states and foreign countries travel to participate in these boutique destination races designed to feature the areas top wineries and other attractions. Current races include Santa Barbara; Northern Virginia; Napa-to-Sonoma; Oregon (Willamette Valley); Kelowna, B.C.; Healdsburg, CA; and IPA10K + Beer Mile Invitational in Sebastopol, CA.
About Motiv Sports
Motiv Sports is an active lifestyle and entertainment company focused on delivering authentic and immersive live and digital experiences. Founded in 2015, Motiv Sports is headquartered in Denver, CO, with offices across the country. With decades of experience in the sports and entertainment events industry, the company is continually refining what works while exploring unique partnerships and opportunities to further enhance the consumer experience. The Motiv Sports platform currently consists of 41 triathlon and running events and digital properties with plans to expand into several vertical industries in the outdoor lifestyle space. A belief in better is the root of all motivation. That's what Motiv Sports is all about. Learn more at www.motivrunning.com.
# # # #