GFNY World season starts with sellout GFNY Europe Championship Mont Ventoux
June 28, 2017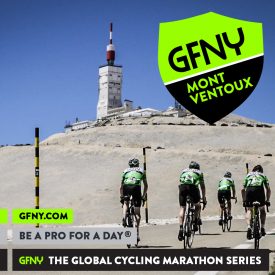 2000 riders from 35 countries take on and conquer GFNY Mont Ventoux
NEW YORK CITY, June 28, 2017 – The third edition of GFNY Mont Ventoux took place on Sunday, June 25. The race was sold out, with 2000 riders who were treated to a glorious day of iconic riding under blue skies and warm temperatures of 31C.
Set amid the charming provincial town of Vaison-la-Romaine, famous for its well-preserved 2000-year-old Roman ruins and medieval town and cathedral, GFNY Mont Ventoux offers beautiful scenery, vineyards and charming Provencal villages, which provides a dramatic setting for the challenge the riders take on.
"Mont Ventoux is a very tough climb that most fear, hence reaching the top provides a huge sense of pride. Along the way, riders are treated to a safe and smoothly operating event that makes them BE A PRO FOR A DAY, as GFNY's slogan states." Said Lidia Fluhme, co-founder and President of GFNY
The long distance event encompasses 130km over 3200metres of climbing including 3 Cols before the final ascent to the finish atop Mt. Ventoux. GFNY Mont Ventoux is the only open cycling race to finish on top of Mont Ventoux; all GFNY races are open to professionals and amateurs alike.
In the men's race it was a close battle on the final climb up Mt. Ventoux with Kristof Houben from Belgium and defending champion, Alexander Duncan of Switzerland, riding side by side until the final 500 meters. Houben launched an attack with 500 meters to go and Duncan was unable to respond to the Belgian's effort and Houben took the GFNY European Championship Mont Ventoux title in a time of 4:14:53h.  Nicolas Reynaud of France completed the podium just over a minute back.
In the women's race, Stephanie Subercaseaux, from Chile rode away with the win in a time of 5:16:17h. She overtook Isabel Eizmendi (Spain) on the climb up Ventoux, which she started 8 minutes later and won by 2 minutes. Muriel Reggiani (France) finished third a further 3 minutes down.
Both overall winners are invited to New York City with flight and hotel provided by GFNY to compete at the Campagnolo GFNY World Championship NYC. Due to the event being the European Championship, other riders also benefited from finishing in the top 20% of each age group (vs the usual 10% at other GFNYs) qualifying for the racer corral at Campagnolo GFNY World Championship New York City being held on May 20, 2018.
GFNY World will head back to Provence on September 29 – October 1 for GFNY Provence, a 3-day stage race. It is GFNY's second 3-day stage race of 2017 calendar year; the first was GFNY Italia in March.
Next up: GFNY World heads to South America and the inaugural GFNY Brasil on August 6.
About GFNY
GFNY is the global cycling marathon brand with events held in NYC, Bali-Indonesia, Brazil, Chile, Colombia, Costa Rica, Germany, France, Lombok-Indonesia, Italy, Jerusalem-Israel, Malaysia, Cozumel-Mexico, Monterrey-Mexico and Uruguay.
Riders get to BE A PRO FOR A DAY by competing against others, themselves and the clock in a personal endurance challenge.
At all GFNY events, riders have the chance to qualify for the elite racer corral at the GFNY World Championship in NYC by placing in the top 10% (20% at World and Regional championships) of their age group.
Campagnolo GFNY World Championship NYC
The 8th annual Campagnolo GFNY World Championship New York will be held on May 20, 2018. The race features the world's most international peloton with riders from over 90 countries. Athletes take on a challenging 100-mile route from NYC to Bear Mountain to Fort Lee to compete against each other, the clock and themselves in a personal endurance challenge.
The official GFNY website is: www.gfny.com.
GFNY World calendar 2017/18 season
2017
June 25 GFNY EUROPE CHAMPIONSHIP MONT VENTOUX
August 6 GFNY BRASIL
September 3 GFNY DEUTSCHLAND
September 3 GFNY ASIA CHAMPIONSHIP INDONESIA
September 30 – Oct 1 GFNY PROVENCE STAGE RACE
November 12 GFNY COZUMEL-MEXICO
November 26 GFNY CHILE
2018
February 4 GFNY BALI
February 25 GFNY LATIN AMERICA CHAMPIONSHIP MONTERREY
March 11 GFNY COLOMBIA
March 18 GFNY URUGUAY
April 22 GFNY COSTA RICA
April 27 GFNY MIDDLE EAST – AFRICA CHAMPIONSHIP JERUSALEM
April 29 GFNY MALAYSIA
May 20 CAMPAGNOLO GFNY WORLD CHAMPIONSHIP NYC
Further Material for Media Use
GFNY Europe Championship Mont Ventoux video: here
GFNY Europe Championship Mont Ventoux photos: here
GFNY Europe Championship Mont Ventoux results: here
GFNY World calendar graphic: here
Previous GFNY press releases: here
GFNY photo archive (credit SPORTOGRAF): here
Media Contact
Gran Fondo New York Inc.
Uli Fluhme
Phone: +1.212.933.4033
Email address:  uli@gfny.com