GFNY NYC to offer $10,000 purse to break 4 hours
April 25, 2019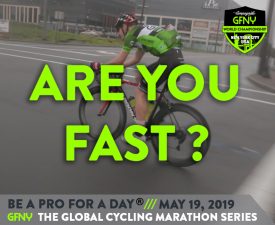 Campagnolo GFNY World Championship offers $10,000 to the first rider who can break 4 hours over its 100mile championship course.
NEW YORK CITY, April 25, 2019 – Next month the 9th annual GFNY World Championship will take place. Over the years no rider has managed to break four hours over the 100mile course that has 2800 meters of climbing.
Now is the time to make history and take on the challenge. The first rider to finish the Campagnolo GFNY World Championship NYC course on May 19, 2019 under 4 hours gun time will receive $10,000.
The most recent fastest times have not gone below 4hrs15min (2015), 4hrs30min (2016), 4hrs:28min (2017) and 4hrs:22min (2018).
"Road racing may not be about finishing fast but rather finishing first. However, adding a prime for a fast time will bring more talent to the race and invigorate it from the gun," said GFNY CEO Uli Fluhme. "Also, it will be inspiring to compare for the whole peloton where the majority is riding for a personal best on the course."
Register now to take on the ultimate GFNY challenge for your chance to make history.
About GFNY
GFNY is the global cycling marathon brand with events held in NYC, Argentina, Bali-Indonesia, Brazil, Chile, Colombia, Costa Rica, Ecuador, Italy, Jerusalem-Israel, Indonesia, Cozumel-Mexico, Monterrey-Mexico, Panama, Philippines, Portugal, República Dominicana, Santa Fe-USA and Uruguay.
Riders get to BE A PRO FOR A DAY by competing against others, themselves and the clock in a personal endurance challenge.
At all GFNY events, riders have the chance to qualify for the elite racer corral at the GFNY World Championship in NYC by placing in the top 10% (20% at regional championships) of their age group.
Campagnolo GFNY World Championship NYC
The 9th annual Campagnolo GFNY World Championship New York will be held on May 19, 2019. The race features the world's most international peloton with riders from over 90 countries. Athletes take on a challenging 100-mile route from NYC to Bear Mountain to Fort Lee to compete against each other, the clock and themselves in a personal endurance challenge.
The official GFNY website is: www.gfny.com.
GFNY World 2019/20 calendar
3 May GFNY MIDDLE EAST – AFRICA CHAMPIONSHIP JERUSALEM
19 May GFNY WORLD CHAMPIONSHIP NYC
23 June GFNY SANTA FE
7 July GFNY COSTA RICA 
4 August GFNY BRASIL
8 September GFNY EUROPE CHAMPIONSHIP PORTUGAL
1 September GFNY INDONESIA
22 September GFNY PHILIPPINES
12 October GFNY ECUADOR
20 October GFNY PANAMA
3 November GFNY ARGENTINA
10 November GFNY COZUMEL-MEXICO 
24 November GFNY CHILE
23 February 2020 GFNY BALI
8 March 2020 GFNY MONTERREY
15 March 2020 GFNY SOUTH AMERICA CHAMPIONSHIP URUGUAY
22 March 2020 GFNY COLOMBIA
29 March 2020 GFNY ITALIA
29 March 2020 GFNY REPUBLICA DOMINICANA
Further Material for Media Use
GFNY NYC photos: here
GFNY NYC video: here
GFNY World calendar graphic: here
Previous GFNY press releases: here
GFNY photo archive (credit SPORTOGRAF): here
Media Contact
Gran Fondo New York Inc.
Emma Bishop, emma@gfny.com
Uli Fluhme, uli@gfny.com