GFNY Mexico Partners With Trek Bicycle Corporation As Exclusive Bicycle Sponsor
February 16, 2016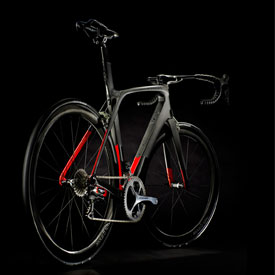 The world famous high end frame and bicycle manufacturer Trek Bicycle will be the official bicycle brand of the Inaugural 2016 GFNY Mexico City and third edition GFNY Cozumel cycling events which will be held June 26, 2016 and Nov 13, 2016.  Trek Bicycle which is headquartered in Waterloo, Wisconsin and is known around the world for their superb built frames, professional race team and their unique Project One custom build bicycle program has partnered with GFNY Mexico to showcase their prestigious new Madone and Emonda frames and bikes.
"My first bike as a kid was a Trek which I immediately fell in love with and began to race from a young age" says Shaun Gad CEO of Paradise Sports Management. "Trek's frame technology and carbon materials has always been the best, but what really always fascinated me was how they always had the most advanced bikes in the world.  You always feel confident when racing on a Trek."
As part of the partnership, Trek will be awarding the overall male and female winners of GFNY Mexico City and Cozumel with brand new Madone 9.2 and Émonda SLR bikes.  The all new Madone is taking the bicycle industry by storm with its hidden cables and ultimate aero performance. There is no other bike that performs and looks this good all at the same time.  The Émonda with its sleek thin carbon shapes, is the ultimate climber's bike that performs to perfection for the climbs of GFNY Mexico City.   To add to the already overwhelming prizes from Trek, they will also be raffling away two more Émonda bikes to all participants of GFNY Mexico.  That's a total amount of 6 bicycles that Trek will be giving away.
"We are really happy to be working with the team at GFNY Mexico" says Trek country manager Luis Navarro. "Their passion for cycling and putting together fun competitive cycling events reflect our principles of what we love about cycling in Mexico."  "The cycling culture has grown tremendously in the last years here and we want to be right next to everyone to show our commitment to building the best bikes for them and supporting the races they love such as GFNY Mexico".
To show the vast array of colors and choices from Trek Project One, Trek will be designing custom Madone and Émonda bikes in beautiful GFNY colors which will be ridden by the GFNY Mexico family and available also to everyone to purchase via the Trek Project One website or local dealers.  "With the combination of Trek's superior bike frames and GFNY colors, we're sure going to turn a lot of heads while riding and racing on the streets" says Paradise Sports Management President Miguel Gonzalez. "We are racers at heart and we compete to win just like we design our events to be the best there is"
About Paradise Sports Management:
The inaugural GFNY Mexico City and third edition of GFNY Cozumel brings two iconic international cycling events to Mexico.  GFNY Mexico City, June 26, 2016 climbs over 2700m for the Gran Fondo-130km and 1900m for the Medio Fondo- 100km.  Peak elevation will be 3628m which makes it one of the highest cycling events in the world.   GFNY Cozumel, Nov 13, 2016 is a rider's paradise in the tropical island of Cozumel, Mexico. Race, relax, and enjoy the Mexican party atmosphere all on one trip with friends and family.  All GFNY cycling events are held on fully closed or moderated roads, chipped timed from start to finish, and adhere to the true principles of an Italian style Gran Fondo.  For more information visit
GFNY Mexico City www.gfnymexicocity.com
GFNY Cozumel www.gfnycozumel.com