GFNY Italia to take place this Sunday September 20, 2015
September 16, 2015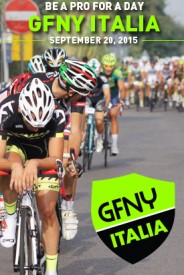 NEW YORK CITY, September 16, 2015: The second annual GFNY Italia bike race is scheduled for September 20, 2015 in Terracina, Italy. Like at all GFNY World events, riders will enjoy closed roads and police moderated traffic to be able to fully focus on competing and enjoying the event. Athletes from 30 countries such as Ecuador, USA, Indonesia, Chile, Mexico, Canada, Australia, Brazil, Argentina, Singapore and across Europe will tackle the 78-mile long course with 6,230ft of climbing or the 65-mile medium course with 5,426ft of climbing.
While only a few riders are in the hunt for the overall win, many riders are trying to be in the top 10% of their age group which is a gives them the opportunity to snatch up a racer corral spot at the GFNY Championship in NYC on May 15, 2016.
GFNY Italia will be the first event of the GFNY World series to introduce a Parade of Nations and Teams the day before the race. The Parade celebrates those who have traveled from afar to be part of the race as well as local and national teams participating.
Adding other unique experiences to the GFNY Italia race weekend include: a Friday pre-race wine tasting at a restaurant overlooking the Tyrrhenian Sea, Saturday morning pre-race group ride and Saturday evening pre-race pasta party. This pre-race social events open to all participants and fans of GFNY Italia enable people to share their time with likeminded people from all over the world.
The coastal town of Terracina plays host to GFNY Italia for the second year. With the in-town fishing port providing restaurants with fresh catch daily, visitors to Terracina can expect culinary delights. The Ancient Roman remains of the Temple of Jupiter Anxur, built in 1st century BCE, sit atop a cliff overlooking the start & finish area of GFNY Italia contributing to stunning finish line photos for memories to last a lifetime.
Italian sponsors at Gran Fondo New York decided to support GFNY Italia despite having hundreds of other events in Italy they could liase with instead. Cicli De Rosa equips the winners with their high end, custom Protos GFNY frames. New York title sponsor Campagnolo got on board by offering all finishers a GFNY Italia-Campagnolo cycling cap.
Limar continues to be one of the series biggest supporters with their Ultralight+ GFNY helmets.Biemme is once again the supplier of the official GFNY Italia kit. Riders who sign up for the 99 Euro VIP option receive a jersey that allows them to start in the front corral. Storied saddle manufacturer shape="rect" Selle San Marco provides the official GFNY saddle – 100% hand made in Italy. Schmolke Carbon from Germany provides the world's lightest handle bars to category winners.
While online registration is already closed, riders can still register on site Saturday and Sunday for 45 Euro.
About Gran Fondo New York
The 6th annual Campagnolo Gran Fondo New York on May 15, 2016 will be the second GFNY Championship. The race features the world's most international peloton with riders from over 70 countries. Athletes take on a challenging 100-mile route from NYC to Bear Mountain and back to compete against each other, the clock and themselves in a personal endurance challenge.
The 50-mile GFNY BEAR on the same day is a non-competitive ride from NYC to Bear Mountain.
GFNY WORLD now features events in Italy, Mexico-Cozumel, Argentina, Colombia and at Mont Ventoux/France. Riders there have a chance to qualify for the elite racer corral at the GFNY Championship in NYC by placing in the top 10% of their age group.
The official Gran Fondo New York website is:  gfny.com.
GFNY World 2015/16 season
September 20, 2015 – GFNY Italia – gfnyitalia.com
November 22, 2015 – GFNY Cozumel-Mexico – gfnycozumel.com
December 6, 2015 – GFNY Argentina – gfnyargentina.com
April 10, 2016 – CRM GFNY Colombia – gfnycolombia.com
May 15, 2016 – GFNY Championship at Campagnolo Gran Fondo New York – gfny.com
June 26, 2016 – GFNY Mont Ventoux – gfnymontventoux.com
Further Material for your use
GFNY Italia course video: here
GFNY Italia 2015 photos: here