GFNY Italia to Hold Parade of Nations On the Eve of the Race
September 3, 2015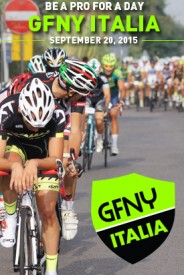 NEW YORK CITY, September 3, 2015 – The second annual GFNY Italia bike race is scheduled for September 20, 2015 in Terracina, Italy. Riders from over 30 countries will tackle the 78-mile long course with 6,230ft of climbing or the 65-mile medium course with 5,426ft of climbing.
GFNY Italia will be the first event of the GFNY World series to introduce a Parade of Nations and Teams the day before the race. "At our race in New York, we have had riders from 93 countries in only five years," says GFNY President Lidia Fluhme. "Each of our GFNY World events, a series we only started a year ago, has seen an incredible influx of international participants from their very first editions. Whether it's Brazilians in Italy, Australians in Mexico or New Yorkers in Argentina, GFNY created cycling race destinations for riders and their families. The Parade of Nations and Teams celebrates those who have traveled from afar to be part of the race."
The parade includes all nations represented at the race as well as international and local teams. It's a social gathering which means family members and friends are invited to join the fun. The parade will be held at the seafront of Terracina and is scheduled to start at 5.30pm on September 19, 2015.
About Gran Fondo New York
The 6th annual Campagnolo Gran Fondo New York on May 15, 2016 will be the second GFNY Championship. The race features the world's most international peloton with riders from over 70 countries. Athletes take on a challenging 100-mile route from NYC to Bear Mountain and back to compete against each other, the clock and themselves in a personal endurance challenge.
The 50-mile GFNY BEAR on the same day is a non-competitive ride from NYC to Bear Mountain.
GFNY WORLD now features events in Italy, Mexico-Cozumel, Argentina, Colombia and at Mont Ventoux/France. Riders there have a chance to qualify for the elite racer corral at the GFNY Championship in NYC by placing in the top 10% of their age group.
The official Gran Fondo New York website is:  gfny.com.
GFNY World 2015/16 season
September 20, 2015 – GFNY Italia – gfnyitalia.com
November 22, 2015 – GFNY Cozumel-Mexico – gfnycozumel.com
December 6, 2015 – GFNY Argentina – gfnyargentina.com
April 10, 2016 – CRM GFNY Colombia – gfnycolombia.com
May 15, 2016 – GFNY Championship at Campagnolo Gran Fondo New York – gfny.com
June 26, 2016 – GFNY Mont Ventoux – gfnymontventoux.com
Further Material for your use
GFNY Italia course video: here
GFNY Italia 2015 photos: here