GFNY Italia Set to Become one of the Most International Races in Italian Cycling
March 28, 2019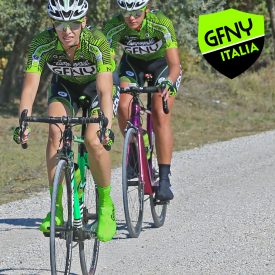 Montepulciano and Torrita di Siena in Southern Tuscany welcome 1200 riders from 36 nations for GFNY Italia this Sunday, March 31st.
(NEW YORK CITY, March 28, 2019) – The return of GFNY Italia has been eagerly anticipated. This Sunday's race will feature a stunning new course and deep international field with 1200 riders from 36 nations.
Leading up to Sunday, riders have had the option to participate in a week-long camp for a detailed reconnaissance of the challenging and technical course. Tuscan host towns of Montepulciano and Torrita di Siena have rolled out the red carpet to the GFNY Italia campers with a Welcome Dinner hosted by Montepulciano and VIP attendance to Torrita di Siena's historic donkey race, Palio dei Somari. GFNY has offered daily supported group rides to allow riders to compete at their peak over Sunday's 109km course with 2000 meters of climbing. 25km of the race course is over Tuscany's famous white roads, 'strade bianche'.
Family and friends traveling along have the chance for a full immersion into Tuscan culture and heritage through a variety of daily tourism activities for all ages.
GFNY Italia in Montepulciano – Torrita di Siena on March 31 will mark the 5th time that the race is held, after taking 2018 off to secure a new host venue.
"It was exciting for me to be able to create this course here in Toscana, the heart of cycling in the world," said GFNY CEO Uli Fluhme. "GFNY Italia riders will adore the hills and villages, but they likely will also curse me on the technical strade bianche sections as well as during the steep pitches of up to 18%."
The race serves as a 2018-2019 qualifying race for the racer corral at the 2019 Campagnolo GFNY World Championship in NYC, which will be held on May 19.
About GFNY
GFNY is the global cycling marathon brand with events held in NYC, Argentina, Bali-Indonesia, Brazil, Chile, Colombia, Costa Rica, Ecuador, Italy, Jerusalem-Israel, Indonesia, Cozumel-Mexico, Monterrey-Mexico, Panama, Philippines, Portugal, República Dominicana, Santa Fe-USA and Uruguay.
Riders get to BE A PRO FOR A DAY by competing against others, themselves and the clock in a personal endurance challenge.
At all GFNY events, riders have the chance to qualify for the elite racer corral at the GFNY World Championship in NYC by placing in the top 10% (20% at regional championships) of their age group.
Campagnolo GFNY World Championship NYC
The 9th annual Campagnolo GFNY World Championship New York will be held on May 19, 2019. The race features the world's most international peloton with riders from over 90 countries. Athletes take on a challenging 100-mile route from NYC to Bear Mountain to Fort Lee to compete against each other, the clock and themselves in a personal endurance challenge.
The official GFNY website is: www.gfny.com.
GFNY World 2019/20 calendar
31 March GFNY ITALIA 
7 April GFNY REPUBLICA DOMINICANA
3 May GFNY MIDDLE EAST – AFRICA CHAMPIONSHIP JERUSALEM
19 May GFNY WORLD CHAMPIONSHIP NYC
23 June GFNY SANTA FE
7 July GFNY COSTA RICA  
4 August GFNY BRASIL
8 September GFNY EUROPE CHAMPIONSHIP PORTUGAL
1 September GFNY INDONESIA
22 September GFNY PHILIPPINES
12 October GFNY ECUADOR
20 October GFNY PANAMA
3 November GFNY ARGENTINA
10 November GFNY COZUMEL-MEXICO 
24 November GFNY CHILE
23 February 2020 GFNY BALI
8 March 2020 GFNY MONTERREY
15 March 2020 GFNY SOUTH AMERICA CHAMPIONSHIP URUGUAY
Further Material for Media Use
GFNY Italia video: here
GFNY Italia photos: here
GFNY World calendar graphic: here
Previous GFNY press releases: here 
GFNY photo archive (credit SPORTOGRAF): here
Media Contact
Gran Fondo New York Inc.
Emma Bishop, emma@gfny.com
Uli Fluhme, uli@gfny.com