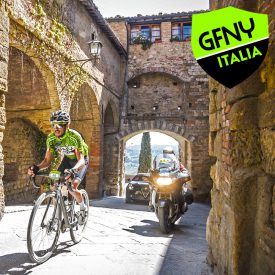 Montepulciano and Torrita di Siena in Southern Tuscany hosted riders from 36 nations
NEW YORK CITY, April 4, 2019 – 800 riders from 36 nations took on GFNY Italia last Sunday March 31 but Italian power and experience prevailed on home ground with a complete sweep in the men's and women's races.
Tuscany and the Municipalities of Montepulciano and Torrita di Siena rolled out the red carpet for the return of GFNY Italia. The splendid Medici Fortress of Montepulciano was the setting for the event village and the registration of the athletes.
The race started from Viale della Rimembranza in Montepulciano. Moto marshals from the legendary Italian "scorta technica" accompanied the riders along the 109 km route with 2000m of climbing. Tuscany's famous hills provided short but demanding climbs and steep descents, which meant little to no recovery for the athletes.
Over 100 riders broke away upon passing Torrita di Siena in Piazza Matteotti in front of the town hall. After the first sector of strade bianche, le Regge, Ricardo Pichetta and Nicolo Di Gaetano took a one-minute lead. Pichetta is an experienced GFNY racer, having won GFNY NYC in 2017, GFNY Portugal in 2018 and placed at several others.
Starting with the second sector of strade bianche, which is also part of the Eroica bike tour and the Strade Bianche pro race, Pichetta dropped Di Gaetano and created more than a two-minute advantage.
The up to 18% steep final five kilometers to the Piazza Grande in Montepulciano allowed Pichetta, a native Brazilian rider but of Italian nationality, to solidify his lead.
Pichetta won the 5th edition of the GFNY ITALIA in Montepulciano with a time of 3 hours 13 minutes and 40 seconds. Five minutes back, Di Gaetano (Go Fast Team) crossed the line in 3:18:34. Aurelio Di Pietro completed the podium in 3:21:27.
In the women's race Ana Gonzalez took the top honors in 4:23:54. Second and third place was a photo finish with Aurelia Ventura edging out Veronica Iona in 4:33:14.
Next up, GFNY World goes to the Dominican Republic for the inaugural GFNY Republica Dominicana this Sunday April 7.
About GFNY
GFNY is the global cycling marathon brand with events held in NYC, Argentina, Bali-Indonesia, Brazil, Chile, Colombia, Costa Rica, Ecuador, Italy, Jerusalem-Israel, Indonesia, Cozumel-Mexico, Monterrey-Mexico, Panama, Philippines, Portugal, República Dominicana, Santa Fe-USA and Uruguay.
Riders get to BE A PRO FOR A DAY by competing against others, themselves and the clock in a personal endurance challenge.
At all GFNY events, riders have the chance to qualify for the elite racer corral at the GFNY World Championship in NYC by placing in the top 10% (20% at regional championships) of their age group.
Campagnolo GFNY World Championship NYC
The 9th annual Campagnolo GFNY World Championship New York will be held on May 19, 2019. The race features the world's most international peloton with riders from over 90 countries. Athletes take on a challenging 100-mile route from NYC to Bear Mountain to Fort Lee to compete against each other, the clock and themselves in a personal endurance challenge.
The official GFNY website is: www.gfny.com.
GFNY World 2019/20 calendar
7 April GFNY REPUBLICA DOMINICANA
3 May GFNY MIDDLE EAST – AFRICA CHAMPIONSHIP JERUSALEM
19 May GFNY WORLD CHAMPIONSHIP NYC
23 June GFNY SANTA FE
7 July GFNY COSTA RICA 
4 August GFNY BRASIL
8 September GFNY EUROPE CHAMPIONSHIP PORTUGAL
1 September GFNY INDONESIA
22 September GFNY PHILIPPINES
12 October GFNY ECUADOR
20 October GFNY PANAMA
3 November GFNY ARGENTINA
10 November GFNY COZUMEL-MEXICO 
24 November GFNY CHILE
23 February 2020 GFNY BALI
8 March 2020 GFNY MONTERREY
15 March 2020 GFNY SOUTH AMERICA CHAMPIONSHIP URUGUAY
Further Material for Media Use
GFNY Italia video: here
GFNY Italia photos: here
GFNY World calendar graphic: here
Previous GFNY press releases: here
GFNY photo archive (credit SPORTOGRAF): here
Media Contact
Gran Fondo New York Inc.
Emma Bishop, emma@gfny.com
Uli Fluhme, uli@gfny.com