GFNY introduces Multi-Finisher Medals
February 2, 2018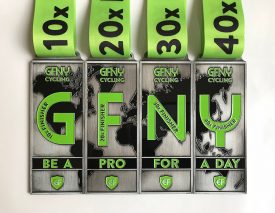 A Multi-Finisher loyalty program will be made available to all GFNY participants starting 2018
NEW YORK CITY, February 2, 2018 – As the GFNY World cycling marathon series expands its global event offering in 2018, it's never been a more rewarding time to race GFNY. With exciting new locations on the 2018 calendar, it's also never been 'easier' to earn a GFNY Multi-Finisher Medal.
Starting 2018, GFNY will offer two types of Multi-Finisher medals. The first is a '3-timer 2018' medal that awards riders who finish three GFNYs in 2018.
The second is a 'Multi-GFNY' all-time medal that awards riders who have accumulated 10, 20, 30, and 40 GFNY finishes, ever. Each medal has a letter of GFNY and upon completing 40 GFNYs, a rider can complete the set of G-F-N-Y. The multi-medal series also contains GFNY's slogan: "Be a Pro For a Day".
All GFNY World races offer two route options: a medium route of 70-90km and a long route of 120-160km. Only the long route is competitive and ranks riders in order of total time at arrival. However, finishing either the medium or long route at any GFNY World race counts towards earning a GFNY Multi-Finisher Medal.
In the spring of 2018, GFNY will launch participant online accounts for every rider. In the account, each rider will be able to track their registrations, progress towards earning the GFNY Multi-Finisher Medals, look at past results, qualification for the racer corral and much more.
About GFNY
GFNY is the global cycling marathon brand with events held in NYC, Bali-Indonesia, Brazil, Chile, Colombia, Costa Rica, Germany, Samosir-Indonesia, Italy, Jerusalem-Israel, Cozumel-Mexico, Monterrey-Mexico, Panama, Poland and Uruguay.
Riders get to BE A PRO FOR A DAY by competing against others, themselves and the clock in a personal endurance challenge.
At all GFNY events, riders have the chance to qualify for the elite racer corral at the GFNY World Championship in NYC by placing in the top 10% (20% at regional championships) of their age group.
Campagnolo GFNY World Championship NYC
The 8th annual Campagnolo GFNY World Championship New York will be held on May 20, 2018. The race features the world's most international peloton with riders from over 90 countries. Athletes take on a challenging 100-mile route from NYC to Bear Mountain to Fort Lee to compete against each other, the clock and themselves in a personal endurance challenge.
The official GFNY website is: www.gfny.com.
GFNY World 2018 calendar
4 February GFNY BALI
25 February GFNY LATIN AMERICA CHAMPIONSHIP MONTERREY
18 March GFNY COLOMBIA
18 March GFNY URUGUAY
22 April GFNY COSTA RICA
27 April GFNY MIDDLE EAST-AFRICA CHAMPIONSHIP JERUSALEM 
20 May GFNY WORLD CHAMPIONSHIP NYC
27 May GFNY POLSKA-GDYNIA
5 August GFNY BRASIL
2 September GFNY EUROPE CHAMPIONSHIP DEUTSCHLAND 
2 September GFNY ASIA CHAMPIONSHIP INDONESIA-SAMOSIR
9 September GFNY PORTUGAL
21 October GFNY PANAMA
11 November GFNY COZUMEL-MEXICO 
25 November GFNY CHILE
Further Material for Media Use
GFNY World calendar graphic: here
Previous GFNY press releases: here
Loyalty medal video: here
Media Contact
Gran Fondo New York Inc.
Uli Fluhme
Phone: +1.212.933.4033
Email address: uli@gfny.com