GFNY Heads To The Tropics: Inaugural GFNY Malaysia This Weekend
April 19, 2017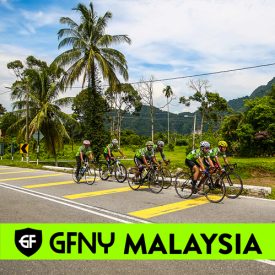 Inaugural GFNY Malaysia rolls into Ipoh
NEW YORK CITY, April 19, 2017 – On April 23, Ipoh, plays host to the inaugural GFNY Malaysia. The city is surrounded by stunning limestone hills and rainforest. Athletes from across Asia and the rest of the world will tackle a course made even more challenging amidst Malaysia's grueling tropical heat and humid conditions.
Riders have the option between the competitive 161.5km long distance with 1342m of climbing and the non-competitive 74.9km middle distance with 541m of climbing. The long distance will serve as the final qualifying race for the racer corral at the 2017 Campagnolo GFNY World Championship in NYC.
"After the great success of GFNY Indonesia this past October, the demand for more GFNY events in Asia has drastically increased," says GFNY President Lidia Fluhme. "We're looking forward to continue to grow the GFNY footprint in Asia and GFNY Malaysia will satisfy this demand much quicker than anticipated."
The host town, Ipoh, is the capital city of the state of Perak and is one of the biggest cities in Malaysia. Just 200km north of Kuala Lumpur, it is easily accessible by plane, train and car.
"We're excited to host the prestigious GFNY World Series in Ipoh," says Amin Jay of GFNY Malaysia. "Riders will enjoy not only a great and safe race but also all the attractions the area offers. We're excited to bring cyclists from around the world to Malaysia."
About GFNY
GFNY is the global cycling marathon brand with events held in NYC, Argentina, Brazil, Chile, Colombia, Germany, France, Indonesia, Italy, Malaysia, Mexico and Uruguay.
Riders get to BE A PRO FOR A DAY by competing against others, themselves and the clock in a personal endurance challenge.
At all GFNY events, riders have the chance to qualify for the elite racer corral at the GFNY World Championship in NYC by placing in the top 10% (20% at regional championships) of their age group.
The official GFNY website is: gfny.com.
Campagnolo GFNY World Championship NYC
The 7th annual Campagnolo GFNY World Championship New York will be held on May 21, 2017. The race features the world's most international peloton with riders from over 90 countries. Athletes take on a challenging 100-mile route from NYC to Bear Mountain to Fort Lee to compete against each other, the clock and themselves in a personal endurance challenge.
The official GFNY website is: gfny.com.
GFNY World calendar
February 26, 2017 – GFNY Colombia – gfnycolombia.com
March 17-19, 2017 – GFNY Italia Stage Race – gfnyitalia.com
March 19, 2017 – GFNY Uruguay – gfnyuruguay.com
March 26, 2017 – GFNY LatAm Championship Mexico City – gfnymexicocity.com
April 23, 2017 – GFNY Malaysia – gfnymy.com
May 21, 2017 – Campagnolo GFNY World Championship NYC – gfny.com
June 25, 2017 – GFNY Europe Championship Mont Ventoux – gfnymontventoux.com
August 6, 2017 – GFNY Brasil – gfnybrasil.com
September 3, 2017 – GFNY Deutschland – gfnydeutschland.com
September 3, 2017 – GFNY Asia Championship Indonesia – gfnyindonesia.com
September 29 – October 1, 2017 – GFNY Provence Stage Race – gfnyprovence.com
November 12, 2017 – GFNY Argentina – gfnyargentina.com
November 12, 2017 – GFNY Cozumel-Mexico – gfnycozumel.com
November 26, 2017 – GFNY Chile – gfnychile.com
Further Material for Media Use
GFNY Malaysia teaser video: here
GFNY World calendar graphic: here
Previous GFNY press releases: here
GFNY photo archive (credit SPORTOGRAF): here
Media Contact
Gran Fondo New York Inc.
Uli Fluhme
Phone: +1.212.933.4033
Email address:  uli@gfny.com