GFNY Costa Rica: photo finish in the tropics
July 10, 2019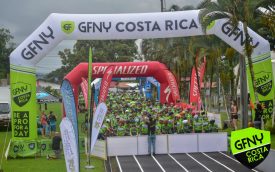 Second edition of GFNY Costa Rica resulted in Costa Rican dominance in both the men's and women's last Sunday July 7th
NEW YORK CITY, July 10, 2019 – Costa Rica turned on the heat with unseasonal tropical conditions and rain showers adding an additional challenge to riders at the second edition of GFNY Costa Rica.
The stunning course that traverses through lush landscapes, conservatories and diverse terrain takes in views of the spectacular Arenal Volcano that showed itself through the clouds.
The start of GFNY Costa Rica takes riders uphill for the first 14km. The demanding start proved pivotal in quickly slimming down the peloton down to the title contenders. By km10 the lead peloton consisted of 15 riders all capable of taking the win.
As the race developed, Rom Akerson (CR), Ronald Araya (CR) and defending champion Federico Ramírez (CR) started to create a gap from the rest of the pack. From this point on it was a 3-man race. Over the last 5k, Araya and Ramírez were unable to respond to an attack made by Akerson who then rode away to take the title in a time of 4:02:55. Araya took second and Ramírez completed the podium in third.
In the women's race it was similarly a display of Costa Rican dominance. Unlike the men's race where Akerson managed to ride away to the finish, it was a tight sprint finish for the top three women. Natalia Navarro, defending champion Marcela Rubiano and young up and coming GFNY Costa Rica first timer, Cristel Espinoza created an exciting finish. Navarro managed to squeeze ahead and take the win in a time of 4:41:04. Rubiano took second in 4:41:05 and Espinoza rounded out the podium in 4:41:13.
10% of finishers in each age group in the long route qualified for the Racer Corral at the 2020 Campagnolo GFNY World Championship in NYC on May 17th.
About GFNY
GFNY is the global cycling marathon brand with events held in NYC, Argentina, Bali-Indonesia, Brazil, Chile, Colombia, Costa Rica, Ecuador, Italy, Jerusalem-Israel, Indonesia, Cozumel-Mexico, Monterrey-Mexico, Panama, Philippines, Portugal, República Dominicana, Santa Fe-USA and Uruguay.
Riders get to BE A PRO FOR A DAY ® by competing against others, themselves and the clock in a personal endurance challenge.
At all GFNY events, riders have the chance to qualify for the elite racer corral at the GFNY World Championship in NYC by placing in the top 10% (20% at regional championships) of their age group.
Campagnolo GFNY World Championship NYC
The 10th annual Campagnolo GFNY World Championship New York will be held on May 17, 2020. The race features the world's most international peloton with riders from over 90 countries. Athletes take on a challenging 100-mile route from NYC to Bear Mountain to Fort Lee to compete against each other, the clock and themselves in a personal endurance challenge.
The official GFNY website is: www.gfny.com.
GFNY World 2019/20 calendar
4 August GFNY BRASIL
8 September GFNY EUROPE CHAMPIONSHIP PORTUGAL
22 September GFNY PHILIPPINES
12 October GFNY ECUADOR
20 October GFNY PANAMA
3 November GFNY ARGENTINA
10 November GFNY COZUMEL-MEXICO 
24 November GFNY CHILE
23 February 2020 GFNY BALI
8 March 2020 GFNY MONTERREY
15 March 2020 GFNY SOUTH AMERICA CHAMPIONSHIP URUGUAY
22 March 2020 GFNY COLOMBIA
29 March 2020 GFNY ITALIA
29 March 2020 GFNY REPUBLICA DOMINICANA
24 April 2020 GFNY MIDDLE EAST – AFRICA CHAMPIONSHIP JERUSALEM
17 May 2020 GFNY WORLD CHAMPIONSHIP NYC
7 June 2020 GFNY SANTA FE
Further Material for Media Use
GFNY Costa Rica 2019 photos: here
GFNY Costa Rica 2019 video: here
GFNY World calendar graphic: here
GFNY photo archive (credit SPORTOGRAF): here
Media Contact
Gran Fondo New York Inc.
Emma Bishop, emma@gfny.com
Uli Fluhme, uli@gfny.com