GFNY Colombia brings drama ahead of Campagnolo GFNY Championship NYC
April 13, 2016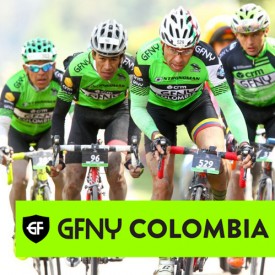 1,300 riders hit it hard above 11,000 feet
NEW YORK CITY, April 12, 2016 – High altitude, fog and pouring rain provided the 1300 racers of the second CRM GFNY Colombia a hefty challenge. The infamous La Cuchilla climb with its 11,040 feet (3365m) of elevation made GFNY Colombia yet again the highest mass participation cycling event in the world. While the course provided a dramatic setting, the men's race had its own drama at the end.
GFNY Colombia offered two distance options: a long route of 138km / 86miles with 2439m / 8001ft of climbing and a medium route of 98km / 59miles with 1471m / 4826ft of climbing.
The town of La Calera, situated just 20 min from Bogota, was the host of the start and finish of the race. With its proximity to Bogota, La Calera is not only the weekend getaway for city people, but also the main destination for hundreds of cyclists on a daily basis.
Colombians are as passionate about road cycling as they are good at it: winning GFNY Colombia might arguably be harder than winning the GFNY Championship in New York. Past years' New York winners Corredor and Montana, both from Bogota, are yet to crack winning on home turf. Before it even started, the tension among the leading contenders was palpable.
The Men's Race
A big lead peloton took the first undulating miles at full gas. Even before the climb up to La Cuchilla began, first attacks were fired. 3km into the climb, it was Corredor who attacked successfully. Behind him, the group fell apart quickly. While three more riders were able to bridge to Corredor, he wasn't happy with the pace and accelerated a few more times, seemingly unfazed about the increasingly stronger rain, wind and temperatures getting closer to freezing. Corredor later said shrugging: "La Cuchilla is always like that. No problem."
Carlos Trujillo from Medellin stuck with Corredor while Enrique Quinones from Cajica had an incredible descent off Cuchilla, initially even dropped both leaders. A few miles later, on undulating terrain along the lake Embalse Tomine towards Sesquile, the three Colombians joined forces and it became clear that the winner would come out of this trio. None of them seemed to want to wait for the sprint to the hilltop finish just outside La Calera, but no attack was fruitful. A mishap just 5km before the finish brought a tense moment as Corredor and Trujillo crashed. Luckily both got back on their bikes quickly and worked together to get back to Quinones.
With 300m to go, Quinones opened up the sprint from the back. While Corredor had nothing left in the tank to follow, Trujillo jumped on the wheel but didn't have it to get past Quinones before the line. But Quinones' finish celebrations ended abruptly when the jury had to disqualify him for outside assistance. During the race, he was handed a water bottle from the side of the road. This is against the GFNY race rules because not every rider has the opportunity to position a helper along the course. Instead, the organization provides neutral feed stops at set points along the course.
Trujillo was crowned winner of GFNY Colombia in 3:48:02, followed by Corredor. Jhon Botero from Bogota finished third, four minutes back, and Campagnolo GFNY 2015 Champion Raul Montana came in fourth place.
"I trained thoroughly for a long time to win this race," said a happy Trujillo. "I rode 7000km in the last four months and lost 10kg over the last two years to be competitive. Lots of sacrifices for a tough race that requires strength. I'm incredibly proud to have won. Let's see what I can do in NYC!"
The Women's Race
Colombians have a passion and seriousness for road cycling that can only also be matched by Italians. Hard training and dedication to the sport are common even in the amateur ranks. But while Italian women are still starkly underrepresented at granfondos, Colombian women love and live the sport just as much as their male compatriots. Many are as serious about racing as the elite men but groups like Bike Girls also bring style to bike racing that men can learn from.
In the women's race, once again Camila Cortes from Bogota proved to be too strong for everyone else. The multiple GFNY winner sealed the deal up La Cuchilla and finished the race in 4:06:41. Her domination should not overshadow the strong performances of second place finisher Ana Bonilla (4:18:54, Bogota) and third place finisher Maria Cordoba (4:34:48, Bogota). Both performances are incredible considering the terrain and on a day where merely finishing the race was a laudable effort. The Campagnolo GFNY Championship in New York next month is their race to lose.
At the finish, double NYC champion Cortes was already thinking ahead: "Next stop New York! And then I plan to race GFNY Mexico City." She of course is the hot favorite there as well given that she lives at altitude and the race is reaching even higher than La Cuchilla. But Cortes also won the pancake flat GFNY Cozumel 2015 so there really doesn't seem to be anything she can't do.
Doping Controls
Overall winners as well as King of Mountain champions were tested for banned substances.
For the majority of riders, CRM GFNY Colombia was their last chance to snatch a coveted racer corral spot at the GFNY Championship in NYC on May 15, 2016. The top 10% in each age group earned one of the spots in the front of the 5000-rider peloton in NYC.
"Fully closed roads, passionate cyclists and amazing landscapes provided an incredible experience during the race. And as soon as the riders crossed the CRM GFNY Colombia finish line, they were greeted by a town square filled with over a dozen local vendors of foods, textiles, souvenirs and arts and crafts and were treated to cultural performances like dancing and drums. La Calera truly rolled out the red carpet for CRM GFNY Colombia riders. Finishing such a challenge gave the riders a huge sense of accomplishment and that festive mood carried throughout the afternoon," adds GFNY President Lidia Fluhme, who participated in the race as well.
Campagnolo GFNY Championship in New York on May 15
After a packed season of GFNY events around the globe, all eyes are now on the Campagnolo GFNY Championship held in New York on May 15, 2016. In its sixth year and boasting a field of 5,000 riders from over 70 countries, Campagnolo GFNY shapes up to be yet again the biggest and most competitive mass participation cycling event west of Europe. Open to pros and amateurs alike, the 100-mile course with 8500 feet of climbing sets the scene for 5,000 stories to be carried around the world.
About GFNY
The 6th annual Campagnolo GFNY New York on May 15, 2016 will be the second annual GFNY Championship. The race features the world's most international peloton with riders from over 70 countries. Athletes take on a challenging 100-mile route from NYC to Bear Mountain to Fort Lee to compete against each other, the clock and themselves in a personal endurance challenge.
The 50-mile GFNY BEAR on the same day is a non-competitive ride from NYC to Bear Mountain.
GFNY WORLD events are now held in Italy, Germany, Mexico City, Indonesia, Cozumel, Argentina, Colombia, Uruguay and at Mont Ventoux/France. Riders there have a chance to qualify for the elite racer corral at the GFNY Championship in NYC by placing in the top 10% of their age group.
The official GFNY website is: gfny.com.
GFNY World calendar
April 10, 2016 – CRM GFNY Colombia – gfnycolombia.com
May 15, 2016 – GFNY Championship New York – gfny.com
June 26, 2016 – GFNY Mont Ventoux – gfnymontventoux.com
June 26, 2016 – GFNY Mexico City – gfnymexicocity.com
August 28, 2016 – GFNY Deutschland – gfnydeutschland.com
September 18, 2016 – GFNY Italia – gfnyitalia.com
October 2, 2016 – GFNY Indonesia – gfnyindonesia.com
October 30, 2016 – GFNY Argentina – gfnyargentina.com
November 13, 2016 – GFNY Cozumel-Mexico – gfnycozumel.com
March 5, 2017 – GFNY Uruguay – gfnyuruguay.com
Further Material for Media Use
GFNY World calendar graphic: here
Video GFNY Colombia: here
Photos GFNY Colombia: here (credit: Sportograf)
Media Contact
Gran Fondo New York Inc.
Uli Fluhme
Phone: +1.212.933.4033
Email address:  uli@gfny.com