GFNY Brasil: 1200 riders to take part in inaugural sold out event
August 4, 2017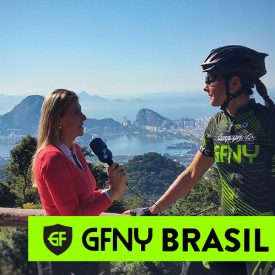 GFNY, the Global Cycling Marathon Series, debuts in Brazil on Sunday, August 6
NEW YORK CITY, August 2017 – GFNY, the global cycling marathon series makes it Brazilian debut, in the historic town of Conservatoria, in the state of Rio de Janeiro this Sunday, August 6.
Brazilian cyclists have proven their enthusiasm for GFNY by being the largest foreign contingent at the 2017 GFNY World Championship for the 3rd consecutive year. With the debut of GFNY Brasil, once the capacity of 1000 spots was filled, organizers opened 200 more entries, which also sold out.
"The organization of GFNY Brasil has been working hard to provide a top experience for GFNY riders from 10 nations for the inaugural GFNY Brasil. Riders from as far as USA, Panama, and Chile have traveled to Conservatoria to take part in GFNY Brasil We have made sure that Sunday will be an incredible event," said GFNY Brasil Director, Maria Luisa Jucá.
The host city, Conservatória, known for its stunning nature with rolling green hills, waterfalls and rainforest-covered mountains, is located in a picturesque region two hours north of Rio de Janeiro that was the heart of Brazil's coffee industry in the mid-1800s.
A former coffee plantation will host the pre-race expo and post-race festivities. The estate is located in a beautiful setting in the countryside, with green pastures bordered by stretches of lush Atlantic rain forest.
"GFNY has a passionate fan base in Brazil and bringing GFNY to this exciting and dynamic country is a privilege," said Lidia Fluhme, President and co-founder of GFNY. The beauty of the course in Conservatoria and the surrounding Vala do Café will make for a very special debut on Sunday."
Two distance options will challenge riders, a 160km / 100-mile competitive long course and a 72km / 45-mile medium non-competitive route for riders who want to experience GFNY but not the 160km long route.
The long course serves as a 2017-2018 qualifying race for the racer corral at the 2018 Campagnolo GFNY World Championship in NYC.
About GFNY
GFNY is the global cycling marathon brand with events held in NYC, Argentina, Bali-Indonesia, Brazil, Chile, Colombia, Costa Rica, Germany, Lombok-Indonesia, Italy, Jerusalem-Israel, Malaysia, Cozumel-Mexico, Monterrey-Mexico and Uruguay.
Riders get to BE A PRO FOR A DAY by competing against others, themselves and the clock in a personal endurance challenge.
At all GFNY events, riders have the chance to qualify for the elite racer corral at the GFNY World Championship in NYC by placing in the top 10% (20% at regional championships) of their age group.
Campagnolo GFNY World Championship NYC
The 8th annual Campagnolo GFNY World Championship New York will be held on May 20, 2018. The race features the world's most international peloton with riders from over 90 countries. Athletes take on a challenging 100-mile route from NYC to Bear Mountain to Fort Lee to compete against each other, the clock and themselves in a personal endurance challenge.
The official GFNY website is: www.gfny.com.
GFNY World calendar
August 6 GFNY BRASIL
September 3 GFNY DEUTSCHLAND
September 3 GFNY ASIA CHAMPIONSHIP INDONESIA
November 12 GFNY COZUMEL-MEXICO
November 26 GFNY CHILE
2018
February 4 GFNY BALI
February 25 GFNY MONTERREY
March 11 GFNY COLOMBIA
March 18 GFNY URUGUAY
March 25 GFNY MEXICO CITY
April 22 GFNY COSTA RICA
April 27 GFNY JERUSALEM
April 29 GFNY MALAYSIA
May 20 GFNY NYC WORLD CHAMPIONSHIP
Further Material for Media Use
GFNY World calendar graphic: here
Previous GFNY press releases: here
GFNY Brasil video: here
GFNY photo archive (credit SPORTOGRAF): here
Media Contact
Gran Fondo New York Inc.
Uli Fluhme
Phone: +1.212.933.4033
Email address:  uli@gfny.com