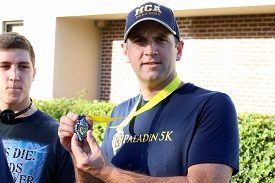 Running Awards & Apparel, Inc. and Racetrackers Enterprise join forces and increase product offerings.
St. Charles, Illinois:  In late 2018, Running Awards & Apparel announced an exciting new merger with Racetrackers Enterprises, Inc. formerly of Spencer, Indiana. The two companies have supplied running events such as 5ks, 10ks and marathons among other races across the US, with custom race apparel, race medals, technical running shirts, and more for over 35 years.
When former Racetrackers president, Del Backs, was ready to scale-back from the running event industry, he knew that Running Awards & Apparel was the perfect business to partner with and that Running Awards & Apparel president, Gary Tinker, was the right leader for the job.
"I've known Gary Tinker for years. We both share the same values regarding employees, vendors and customers. It felt like a perfect match to combine these two businesses to better serve both of our customers."
Since 2012, Running Awards & Apparel has been partnering with race directors across the United States and abroad by providing in-house screen-printed racewear as well as race medals, awards and other swag items. This merge brings an exclusive new line of Racetrackers running hats, as well as sublimated running shirts into the Running Awards & Apparel product mix.
Same Banner, Same Commitment to Customers
Running Awards & Apparel is committed to offering the same level of service and high-quality products customers have always ordered through Racetrackers. Del Backs will continue working behind the scenes with the Running Awards & Apparel team for a number of years, to ensure a smooth merger. Del is confident his customers will be happy with the outcome.
"Customers will still see the same products, quality, pricing and customer service…plus an entire line of additional products including custom medals and awards. This will truly be their one stop shop for events."
Customers eager to get their hands on new merchandise, can already expect to find Racetrackers gear being offered on the Running Awards & Apparel website. The merger aims to allow both companies to better serve the growing number of race organizers and directors throughout the US, who wish to give their participants a unique experience and lasting memories. For more information about Running Awards & Apparel Inc., and the recent merger with Racetrackers, Inc., visit their website at www.runningawardsandapparel.com.