Free Professional Headshots for Attendees of 2023 Running USA Industry Conference, Thanks to MarathonFoto
January 10, 2023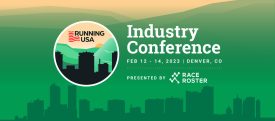 DENVER (Jan. 10, 2023) /ENDURANCE SPORTSWIRE/ – Attendees of the 2023 Running USA Industry Conference in Denver will want to pack at least one nice outfit. Thanks to Running USA partner MarathonFoto, complimentary digital headshots shot by professional photographers will be offered for the first time at the event.
"We're so excited to offer a headshot lounge for our attendees so they can update their professional profiles, event or company websites, social media and other assets," said Christine Bowen, COO of Running USA. "Thanks so much to MarathonFoto, our Official Photography Partner, for bringing this awesome interactive opportunity to our attendees."
MarathonFoto is the leading provider of race day photography for the running industry, with over 45 years of experience, a staff of over 2,500 professional photographers and more than 3,000 races and 8 million runners photographed to date.
"We are thrilled to offer this opportunity," said Brad Kroll, President of MarathonFoto. "All Running USA Conference attendees can have their professional headshot taken. Additionally, MarathonFoto will be taking photos throughout the conference and using AI to create unique galleries for participants to share."
The MarathonFoto Headshot Lounge will take place in the Conference Expo at the Hyatt Regency during the following times, so plan to grab your headshot along with all the other great activities taking place throughout the event:
Sunday, Feb. 12
1pm to 6pm
Monday, Feb. 13 
7:30-9:00am
12-1:00pm
2:45 -3:30pm
4:30-6:00pm
Tuesday, Feb. 14
8-10am
Register for the 2023 Running USA Industry Conference today.
About the Industry Conference
Since its origins as a small gathering of Running USA's founders in Southern California in 2004, the Running USA Industry Conference presented by Race Roster has grown to becoming the best-attended, most esteemed gathering of running industry professionals from around the USA and the world. Now moving locations each year, the conference has been held in Los Angeles, San Diego, Savannah, Houston, San Antonio, Orlando, New Orleans, Puerto Rico, Las Vegas and heads to Denver for the 2023 event.
About Running USA
Running USA is a non-profit organization committed to the growth and success of the running industry. Our promise is to deliver quality education, exceptional industry content, valuable research and ample networking opportunities. We connect. We support. We educate. Running USA brings together an entire community. As the voice of endurance running, we're all about connection and collaboration. Whether we're connecting race organizers with sponsors, partners and athletes, or connecting our members with vital information and best practices, our goal is to raise the profile of running and help more people get more out of it. For more information, visit runningusa.org
About MarathonFoto
With over 45 years of race photography experience, MarathonFoto combines the industry's best logistics, highly skilled photographers, and customer service, all supported by cutting-edge technology, to create the best opportunity for athletes to celebrate their achievements. MarathonFoto is a division of Gameface Media and affiliate of the Six Minute Mile Newsletter.
For more information: https://www.marathonfoto.com/ Contact info: bkroll@marathonfoto.com